News

Baka and Test, You Higuri, Mega Man Online Videos Posted

posted on by Egan Loo
---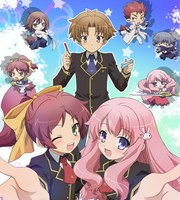 The October issue of Enterbrain's FB Online magazine has begun streaming a three-minute promotional video for the new Baka and Test - Summon the Beasts original video anime project on Friday. The OVA will be released before the second television anime season, which has been slated for next year. The videos feature three characters from the anime in a spoof of a popular virtual girlfriend simulator. Kenji Inoue's original light novels centers around Akihisa Yoshii and his magical academy's lowly-ranked Class F as they battle the higher-tiered classes to seize their perks.
Last week, the North American publisher Tokyopop posted an eight-minute video of an interview that it conducted with manga creator You Higuri (Gorgeous Carat, Cantarella, Ludwig II) last December. Higuri answered some questions in her own house, and Tokyopop videotaped Higuri drawing a sketch.



The Korean publisher Neowiz Games posted an animated teaser trailer for Rockman Online (Mega Man Online), the Korean side-scrolling action role-playing game, on its official Pmang channel on the YouTube website on Wednesday. The game includes characters from the various games in CAPCOM's Rockman/Mega Man franchise. Neowiz Games plans to release this game in South Korea and parts of the rest of the Asia at the end of 2010.



[Via Moon Phase, Protdude's Rockman Corner, Capcom Unity, Inside Games' Game*Spark]
Image © 2010 Kenji Inoue・Yui Haga/ENTERBRAIN, INC./Baka to Test to Shōkanjū Production Committee
Update: Edited Baka and Test's description. Thanks, viral_hun.
---