News

Satoshi Kon's Paprika, Millennium Actress to Run in L.A.

posted on by Jacob Browning
New
Beverly
Cinema's tribute to late director
---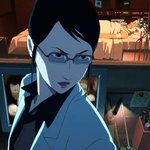 The New Beverly Cinema theater in Los Angeles will hold screenings of Paprika and Millennium Actress as a tribute to the late director Satoshi Kon on Sunday and Monday. The theater will hold two sets of screenings on Sunday; Millennium Actress will play first and Paprika, will follow. Each film will then screen once on Monday night.
Paprika involves the theft of a machine that can enter people's dreams. With the thief having the potential to cause serious psychological damage, Dr. Atsuko Chiba enters the dream world to stop the culprit.

Millennium Actress focuses on television interviewer Genya Tachibana and Chiyoko Fujiwara, a famous star who quit acting years ago. Fujiwara reminisces on her life, and Tachibana and his television crew experience her personal memories in a way that stretches beyond reality.
Thanks to Adrian Lozano for the news tip.
---