News

New Code Geass Manga Reimagines Lead as Convenience Store Clerk

posted on by Crystalyn Hodgkins
Nao Katō's Barcode Geass: Lelouch of the Sales 4-panel manga in
4-Koma Nano Ace
---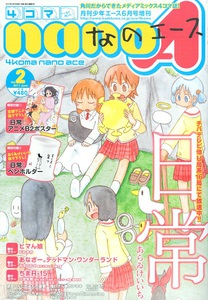 The second issue of Kadokawa Shoten's 4-Koma Nano Ace magazine shipped on Monday with the first installment of Barcode Geass: Hanbai no Lelouch (Barcode Geass: Lelouch of the Sales), Nao Katō's new four-panel spinoff manga based on the Code Geass: Lelouch of the Rebellion television anime series. The manga re-imagines the anime's title character Lelouch Lamperouge as a part-time convenience store worker. Code Geass script supervisor Ichiro Okouchi and director Goro Taniguchi are credited with the original story.
The five other new titles in the second 4-Koma Nano Ace issue are original works: Kamata Majo by Izumi Kazuto (Binbō Shimai Monogatari), Himan Musume by Munekichi (Marble Inspire), Aku no Himitsu Kessha by Mo-suke Mattaku, Dejiman—! by Makoto Kuon, and Gakuen no Musume by Yuka Santō. The second issue also bundled a Nichijō pen holder and poster.
Kadokawa launched 4-Koma Nano Ace in March with four-panel manga tie-ins to other media such as anime and light novels. Titles published in the first and second issues included Keiichi Arawi's Nichijō (pictured at right), KOIZUMI's Baka to Test to Shōkanjū Dya, and Puyo's The Melancholy of Suzumiya Haruhi-chan.
Source: Comic Natalie
---