News

Kyoto Seika University to Launch Manga Community Site

posted on by Jennifer Sherman
Mangaku interactive learning site created by established manga university
---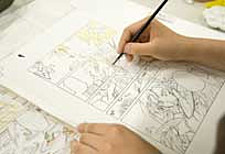 Kyoto Seika University will open its Mangaku interactive manga community website on November 1. Users will be able to submit their original manga on the site as well as recommend and comment on others' works. Mangaku's goal is to provide an opportunity for readers to enjoy manga while learning the craft of creating it.
Contributed manga will receive reviews from Kyoto Seika University faculty as well as a chance for discussion of the works with manga author Keiko Takemiya (To Terra, Kaze to Ki no Uta, The Door Into Summer). The university's Faculty of Manga teaching staff, comprised of manga artists and editors, will manage the new website. Mangaku will also run contests for the contributed works.
Although the Kyoto university will operate the new website, its use will not be limited to Kyoto Seika University students and staff. Anyone can register for access to the site and the ability to contribute manga and use all of Mangaku's features. Opening manga learning to the public is one aim of the new interactive website.
Kyoto Seika University has a 40-year history of academic study in manga and animation. The university was first to install a specialized area of manga studies in 2000, and it then created a Faculty of Manga in 2006. It was also the first to establish a master's degree program in manga last year, when it accepted 20 students. In June, the university announced it will accept 4 to 12 students in a manga doctorate program in April of next year.
Source: Anime Anime Japan
---