News

Gantz Creator Hiroya Oku Wants to End Manga in 2012

posted on

2011-12-27

08:20 EST
Science-fiction manga launched in 2000 & inspired TV anime, 2 live-action films
---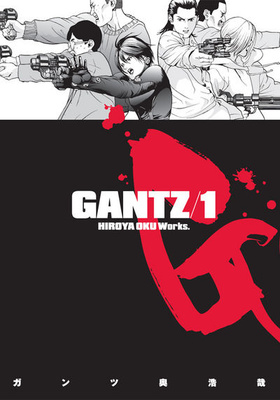 In the authors' notes section for next year's combined 6th/7th issue of Shueisha's Young Jump magazine, Hiroya Oku wrote that he wants to draw the ending for his Gantz manga in 2012. The magazine issue's official release date is January 4.
The manga follows a young Tokyo man who is reanimated after a deadly subway accident. Kei and other resurrected people go on violent, seemingly endless missions at the behest of an unseen host.
Oku launched the manga in Young Jump in 2000, and the 33rd compiled book volume will ship in Japan next month. The "Final Phase" of the manga began in 2009. The manga inspired a television anime series animated by Gonzo (and released by ADV Films in North America) and two live-action films (released by New People Entertainment). Dark Horse Comics released the 20th English volume of the manga in North America this month.
[Via Manga-News]
---
discuss this in the forum (10 posts)
|
bookmark/share with:
RightStuf - Anime, Manga and More
If it weren't for their physical resemblance, you'd never know these troublesome twins were related! This week's list is all about twins who are far more different than alike.
― This week's list is a rerun, but check back next week for a brand new list! Twins remain a topic that entertainment loves to revisit. Genetically identical people are used in horror to highlight fears of lack of individual i...
This manga's take on age gap romance is slightly more self-aware than its peers, delivering an interesting and complex premise. Rebecca Silverman has the details.
― At first glance, Takane & Hana looks like any one of a number of vaguely problematic shoujo romances. It features a sixteen-year-old heroine and a twenty-six-year-old hero, an overbearing romantic lead, and a host of power dynamic issues....
Zac and Jacob strap on their butt handles for a fistfight with DARLING in the FRANXX ! PLUS: catching up with The Ancient Magus' Bride and much more!
― ANNCast Episode 321 - Macy's Franxxgiving Day Parade Zac and Jacob strap on their butt handles for a fistfight with Darling in the Franxx! PLUS: casting spells of codependence with The Ancient Magus Bride and much more! You can listen to the show on ...
Fate/Apocrypha's second half rolls to an exhilarating conclusion on Netflix. Kim Morrissy sums up the series' highs and lows as a Fate installment.
― It's unfortunate that the international Netflix release of Fate/Apocrypha was split into two parts. After months of waiting between the first and second cours, the second part of Fate/Apocrypha picks up right where the first part left off, sparing no ti...
There are few anime studios with history as gripping as Studio Gainax, the simultaneously exalted and notorious birthplace of Evangelion. Part I explores their humble roots, and their now-legendary debut!
― There are few stories within anime production that are as exciting as the story of Studio GAINAX. Instead of the typical story of "Mr. Producer used to work at Company X, but he wanted to produce ...
There are some anime released in the US on VHS but never in any other format - are these (and others) worth tracking down?
― Robbie asked: I recently got into collecting records, and I feel like, although it's not as handy as digital music, there's small things about just the act of listening to them that I really enjoy. I wonder, if there's any feeling you get from watching anime the old fashioned ...
Your favorite shows of the Winter 2018 season battle it out for supremacy on our list of weekly user rankings!
― Our team of reviewers are following 28 anime series of the Winter 2018 season and readers are rating each episode as the reviews go up. So let's have a look at what ANN readers consider the best (and worst) of the season. Keep in mind that these rankings are based on how people rated indi...
Fate/Apocrypha's second half has finally landed on Netflix to thrill fans with more twists, turns, and climactic battles. We discuss if this Great Holy Grail War wrapped up to their satisfaction.
― Fate/Apocrypha's second half has finally landed on Netflix to thrill fans with more twists, turns, and climactic battles. This week in anime, Nick and Steve discuss if this Great Holy Grail War wrapped up ...
While far from the pinnacle of Kyoto Animation's efforts, Phantom World is a fun series that combines fantasy, action, and comedy into an enjoyable ride. Nick Creamer has the details.
― Even from its initial advertising, it was clear that Myriad Colors Phantom World would fall a little outside Kyoto Animation's general slice-of-life/character drama wheelhouse. From its garish color scheme to its loud...
The unkillable musou franchise is back once more! Producer Akihiro Suzuki goes in-depth on the series' legacy and how Dynasty Warriors 9 changes things - plus news and new releases!
― Good lord, it's like a never-ending deluge of news and releases this week! All kinds of big news and important happenings in the business have been dropping lately, to the point where I have to pick and choose carefully...
Visual novels where girls romance a harem of boys are rising in popularity with English-speaking gamers. This Valentine's Day, Anne Lee picks out the cream of the otome game crop.
― Otome games, or romance games aimed at a female audience, may have originated in Japan, but their appeal is finally reaching international audiences. In the past few years, more and more games have been released in Englis...
There's no escaping Marvel Comics, not even in Japan - but how popular are Thor and Hulk in a place already teeming with beloved, locally-grown superheroes? Justin gets into it.
― Sarah asked: Are American comics/movies popular in Japan? I know there have been some recent American Comic Book franchise adaptations into Anime like X-Men and Blade so there must be some interest I imagine, but how popul...
This irreverent and creative comedy will be a treat for fans of psychic-power-based absurdity. Rebecca Silverman breaks down what she loves about Saiki K's disastrous life.
― Poor Saiki. Just because he's got amazing, massive, psychic powers, he's forced to live a life much less quiet and based around consuming desserts than he wants. From the time he was born, Kusuo Saiki has been extraordinary – te...