News

NHK's Gakkatsu! Comedy Anime Shorts Announced

posted on by Jennifer Sherman
Yawaraka Sensha's
Rareko
to helm bizarre class discussion series
---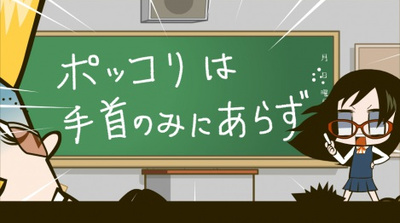 The public broadcaster NHK will launch the Gakkatsu! anime short series on its digital channel 1seg 2 on April 3. The Flash animator Rareko (Yawaraka Sensha, Chi-Sui Maru) is directing, writing the screenplay, and creating music for the new "debate comedy" anime.
The story centers on a junior high school class where students discuss strange topics as part of their classroom activities. In the first episode, the class president Chiho Takachiho asks her classmates what "pokkori" is, and they discuss various opinions on the subject. Every 5-minute episode will feature the unique classmates' views on a different bizarre topic.
Kouta Fukihara will write the screenplay with Rareko. Miyuki Kawasho (Kekkaishi, Fireball) will star as Chiho, while Sōta Arai (One Piece, Black Rock Shooter) will play the prodigy Kuroda-kun, and Yōhei Azakami will play another student named Hiroshi-kun.
An advance broadcast of the 25-episode series' first five installments will air on the NHK Educational TV service from March 19 to 23 with a compiled version on March 26. A new episode will air in Japan every Friday at 12:55 a.m.
Source: Oricon
Image © Rareko/NHK・Fanworks
---