News

Nintendo Denies Nikkei Report of Larger 3DS, Wii U Price

posted on

2012-06-04

23:56 EDT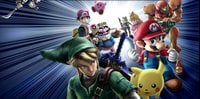 Nintendo has issued a release denying statements made in a Nikkei Shimbun newspaper article (registration required). The article said that Nintendo would release a new version of their 3DS handheld system with a larger, 4.3-inch screen by this summer at the earliest, as well as an approximate 30,000-yen (about US$380) price point for its upcoming Wii U console. The article also states that the Wii U system will feature car navigation and e-book reading capabilities.
Nintendo's release states that the article is not based on releases or confirmed facts, and that it is a "purely speculative" article containing many mistakes. Nintendo's presentation at E3 will take place on Tuesday in Los Angeles.
[Via Hachima Kikō]
---