News

Writers: Micronauts Film Departs from Comic Series

posted on by Lynzee Loveridge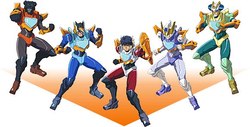 Paul Wernick and Rhett Reese (Zombieland) — the writers for the Micronauts' live-action Hollywood adaptation — revealed that their script is currently being examined by producer Paramount. The writing duo also stated that the film will vary drastically from the Marvel Comics series.
"It departs from the comic wildly, so if you hope it's loyal to the comic you'll be disappointed in that particular sense," Wernick said. "However, it's very, very different and very, very cool. Bad Robot has a strict secrecy enforcement policy, so we can't talk about details except to say that it's different from the comic."
The film is based on Hasbro's Micronauts action figure line. Micronauts were actually rebranded Microman action figures from the Japanese toy company Takara (now a part of Takara Tomy). In Japan, Takara relaunched the brand in 1998 as Microman Magne Powers, and the new version spawned the 1999 Chiisana Kyojin Microman anime series (pictured right).
Source: Movies.com via ComicBookMovie.com
---