News

2013 Tokyo Anime Award Collection DVD Listed With English Subs

posted on

2013-05-12

01:38 EDT by Lynzee Loveridge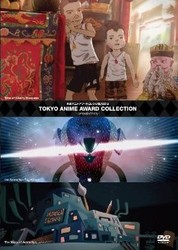 The DVD collection of animated shorts submitted to the 2013 Tokyo Anime Awards will include English subtitles, according to the Amazon listing linked by Tokyo International Anime Fair on Thursday.
The region-free DVD includes " Time of Cherry Blossoms" by Xu-chen Cai, "The Animation Tag Attack" by Christen Bach, "The Story of Animation" by David Tart, "Yugeshō" by Ko, "Nāni to Natta" by Yūka Aoki, "Lion Dance" by Dan and Kei, "Kutsushita" by Ikuo Katō, "Kakurenbō" by Keiko Shiraishi, "Baba-cha no Kingyo" by Kaori Iwase, "In-Between" by Alice Bissonnet, Aloyse Desoubries Binet, Sandrine Han Jin Kuang, Juliette Laurent, and Sophie Markatatos, "Stewpot Phapsody" by Soizic Mouto, Charlotte Cambon, Stephanie Mercier, and Marion Roussel, and "Kazoku Switch" by Yoshito Hata.
All the shorts that include dialogue feature English subtitles with the exception of "Baba-cha no Kingyo."
The DVD goes on sale on May 25 for 1,575 yen (about US$16).
Thanks to WTK for the news tip
---
discuss this in the forum (6 posts)
|
bookmark/share with:
RightStuf - Anime, Manga and More