News

Studio Ghibli London All-Nighter on Saturday

posted on by Andrew Osmond
Six Hayao Miyazaki films being screened back-to-back from 9 p.m.
---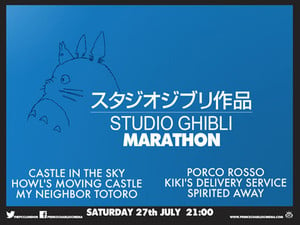 London's Prince Charles Cinema, which has been frequently screening Studio Ghibli films over recent months, is holding an All-Night Studio Ghibli Screening on Saturday July 27, starting at 9 p.m. It will show the following films: Laputa Castle in the Sky, Howl's Moving Castle, My Neighbor Totoro, Porco Rosso, Kiki's Delivery Service and Spirited Away. All the films will be shown in Japanese with subtitles.
The price is £25, or £22.50 for non-members. (Click 'buy' on the above link to buy online.) The website specifies there will be no admittance after midnight, and tickets must be picked up before then.
The following Friday (August 2) will see the U.K. cinema release of Ghibli's From Up on Poppy Hill, directed by Miyazaki's son Goro.
---