News

Fate/Kaleid Liner Prisma Illya Game Delayed 1 Month

posted on by Egan Loo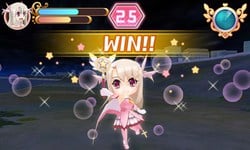 Kadokawa Games has delayed its Nintendo 3DS game based on Type-Moon and Hiroshi Hiroyama's Fate/kaleid liner Prisma Illya manga series from September 26 to October 31. The publisher explained that the delay was needed to improve product quality.
In the game, Illya will use elemental cards to fight enemies. In battle mode, the top screen on the 3DS will feature the characters and their Heroic Sprits fighting using common physical and magical attacks, and the bottom screen will feature the card deck the player has assembled for fighting. Mai Kadowaki will reprise her role as Illyasviel and Kaori Nazuka will reprise her role as Miyu Edelfelt in the game.
Kadokawa Games plans to release the "action adventure / anime card" game in a limited edition that will retail for 9,240 yen (about US$90) and in a regular edition for 6,300 yen (US$61). The limited edition will bundle a super-deformed figure from Phat! Company's "Minichu" series based on illustrations drawn by Kengou Yagumo (Kujibiki Unbalance), an original drama CD with the television anime cast, and an exclusive "Rider" class card.
The magical girl anime Fate/kaleid liner Prisma Illya premiered on July 12.
Source: Gamer.ne.jp
---