News

Anime Sols Sets Crowdfunding Goal for Creamy Mami Set 2

posted on by Lynzee Loveridge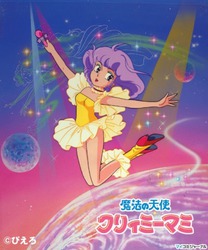 Anime Sols set the crowdfunding goal for the second DVD box set of the magical girl anime Magical Angel Creamy Mami on Sunday. The set will contain episodes 14-26, and Anime Sols is looking to reach a pledge goal of US$18,000 by November 4. Anime Sols accepted pledges for three months on the first set, but the site's official Twitter account cited a "need the revenue flow" as the reason behind the shorter pledge deadline this time.
Anime Sols reached its goal of US$19,000 for the first Creamy Mami DVD set in July. The site successfully funded the first DVD box set of the Black Jack television series as well.
The site is also looking to fund the second Black Jack TV set, the classic shōjo series Dear Brother, the magical girl series Magical Idol Pastel Yumi, Hurricane Polymar, and Tezuka's 24-hour marathon films Bremen 4, Prime Rose, and Bagi, the Monster of Mighty Nature.
---