News

Natsume's Book of Friends Manga Goes Bimonthly

posted on by Sarah Nelkin
17th volume & fanbook also to be released on January 4
---

The January issue of Hakuensha's LaLa magazine announced that Yuki Midorikawa's Natsume Yūjin-Chō (Natsume's Book of Friends) manga is shifting to a bimonthly schedule. The next installment of the manga will be published in the March issue, which is scheduled to ship in Japan on January 24. In addition, the magazine also announced that the 17th compiled volume of the manga and fanbook will be released on January 4.
The manga follows Takashi Natsume, a boy with the ability to see spirits. He inherits a strange book from his deceased grandmother containing the names of the spirits, and realizes that they are trapped by a binding contract. Natsume decides to free the spirits and dissolve the contracts.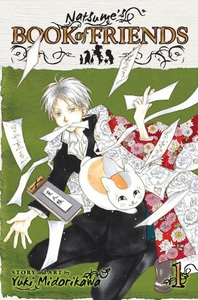 Viz Media publishes the manga in North America, and the story has received four television anime adaptations, with the first season airing in 2008. Crunchyroll streamed the four anime seasons as they aired in Japan, and NIS America announced plans to release all four seasons on home video in North America.
---