News

Jojo's Bizarre Adventure Part 3's Opening Song & More Staff Named

posted on by Lynzee Loveridge
---

The official website for the JoJo's Bizarre Adventure: Stardust Crusaders television anime announced that the opening theme will be titled "Stand Proud" by Jin Hashimoto. The title works as a pun as "stands" are a type of special attacks seen in Hirohiko Araki's JoJo's Bizarre Adventure Part 3 manga. The CD will go on sale on April 23, and the song will also be available as a full-length ring tone on the mobile site animelo mix on April 11.

The website also announced Toshiyuki Kato is serving as "chief director." Masahiko Komino is serving as chief animation director as well as character designer. Fumiaki Kouta is in charge of Stand designs and serving as action animation director. Shinichi Machida is also credited for Stand designs and sub-character designs. Yukitoshi Hōtani and Ryozo Sugiyama are designing the props, and Kaoru Aoki and Yasufumi Soejima are returning for art setting.

Yuko Sato is the color key artist, and Shunichiro Yoshihara is back as the art director. Also returning is the director of photography, Kazuhiro Yamada, and the editor, Kiyoshi Hirose. Yoshikazu Iwanami is back to direct the sound, and Yuugo Kanno is composing the music.

The Warner Entertainment booth at Anime Japan will give away exclusive B3-size posters (pictured above) and an exclusive paper hat (Jōtarō Kūjō's model) this weekend. The booth's wall will have a giant illustration and a life-size figure of Jōtarō Kūjō. The booth's large monitors will show the latest promotional video and other videos.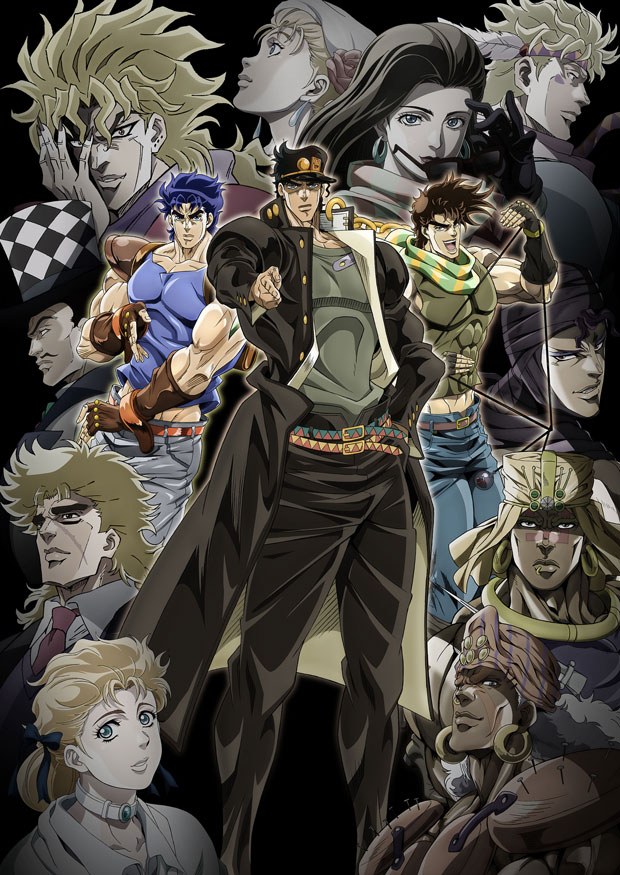 Lawson convenience stores will start a new JoJo's Bizarre Adventure campaign (pictured above) on Saturday, and various tie-in goods will also be on sale at AnimeJapan's Lawson booth.

The anime will feature the following cast:



Daisuke Ono as Jotaro Kujo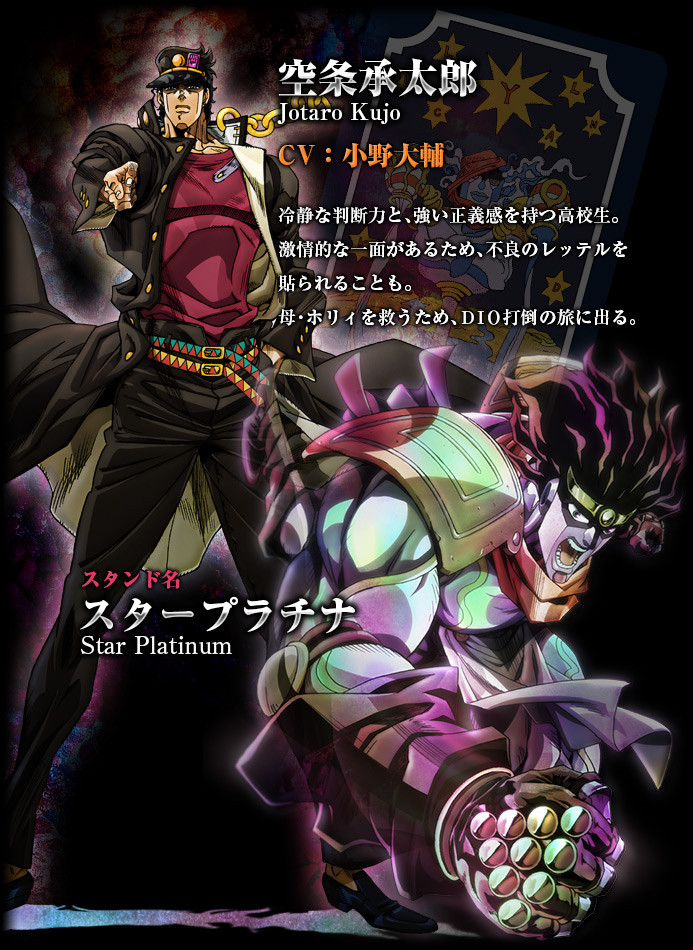 Unshou Ishizuka as Joseph Joestar

Kenta Miyake as Mohammed Avdol

Daisuke Hirakawa as Noriaki Kakyoin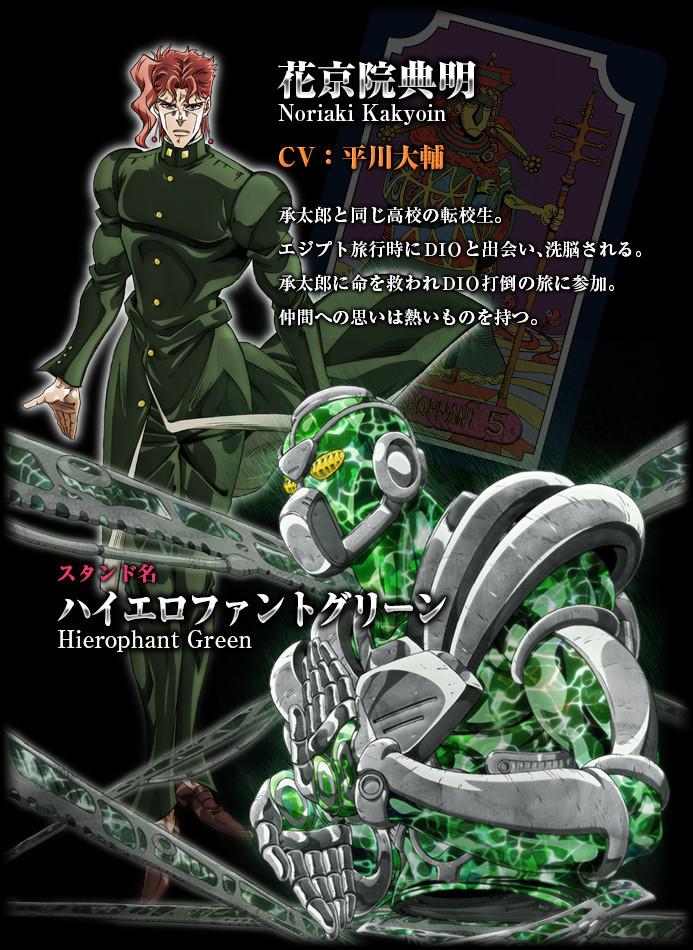 Fuminori Komatsu as Jean Pierre Polnareff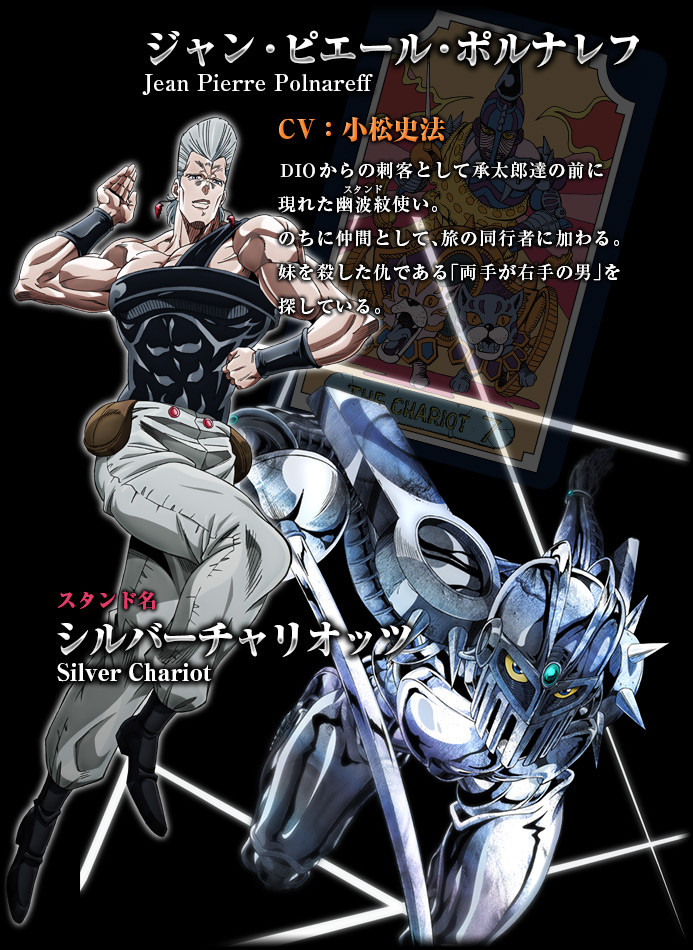 Takehito Koyasu as Dio





Director Naokatsu Tsuda and series director Kenichi Suzuki are once again overseeing the anime at David Production. Yasuko Kobayashi is in charge of the series scripts, and Masahiko Komino is designing the characters.

David Production's earlier 26-episode television anime covered both Part 1: Phantom Blood and Part 2: Battle Tendency from the original manga. That anime finished airing last April.

The new series will premiere on Friday, April 4 at 24:30 (effectively Saturday, April 5 at 12:30 a.m.) on the Tokyo MX TV station.

Images © Hirohiko Araki & Lucky Land Communications/Shueisha, JoJo's Bizarre Adventure SC Production Committee
---