News

Seven Seas Adds Bodacious Space Pirates: Abyss of Hyperspace Manga

posted on by Lynzee Loveridge
Manga adapts anime film of the same name
---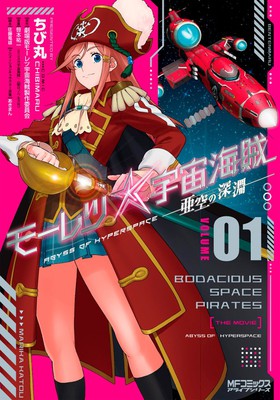 North American publisher Seven Seas Entertainment announced the company acquired the rights to Chibimaru's Bodacious Space Pirates: Abyss of Hyperspace (Mōretsu Pirates: Abyss of Hyperspace -Akū no Shien-) manga on Sunday. The company will release the first volume in August 2015. The announcement is the fifth of seven planned for this week.
The manga adapts the Bodacious Space Pirates film of the same name.
The film's story is as follows:
Marika Kato, a third year student at Hakuho Girls' Academy, is a legitimate space pirate with a Letter of Marque. Between her studies, leading her school's space yacht club, working part time at Cafe Lamp, and being the captain of the space pirate ship Bentenmaru, Marika's days are very busy. One day, Marika gets a job to rob a high-class passenger ship, and she discovers that on the passenger list is Kanata Mugen, a boy who owns a "galaxy pass." Thus, an adventure featuring a hyperspace race between pirates and one young boy begins.
Chibimaru began the manga in Comic Alive's February 2014 issue. The second and final compiled volume of the series will ship in Japan on October 23. The series ended on September 27.
Bodacious Space Pirates, the television anime adaptation of Yuichi Sasamoto's Mini-Skirt Uchū Kaizoku (Mini-Skirt [Space] Pirates) space-opera novels, debuted in Japan last year. Crunchyroll streamed the series outside of Japan as it aired, and Sentai Filmworks has released the anime on Blu-ray Disc and DVD in North America. The film opened in theaters in Japan on February 22.
---