News

Fan-made Hatsune Miku Concert at November Hyper Japan

posted on by Andrew Osmond
30-minute concerts by 'Mirai no Neiro' volunteer group; also singer Anna Yano confirmed for November event
---

The Hyper Japan festival in London has announced that its 'Christmas Market' event in November will include a Hatsune Miku concert. The concert will be mounted by Mirai no Neiro (Sound of the Future), a 'grass-roots volunteer group.' The group has been operating since 2007, creating Vocaloid concerts in the US, Germany, Taiwan, Denmark, Switzerland, Mexico and Chile. This will be Mirai no Neiro's first event in the UK.
From the Hyper Japan website:
Fans will be able to watch a large-scale Hatsune Miku singing and dancing along with a selection of her songs, and, of course, green glow sticks will be handed out to audience members to perfect the Miku concert atmosphere. Each performance will run for around 30 minutes, with 100 people able to watch at a time – so remember to get in there fast and reserve a spot before seats run out in your preferred time slot. Next to the screening room there will also be some 'community tables' where fans can get together and try their hand at Vocaloid-themed activities and competitions. What's more, before each Miku concert, there will be a short talk about Vocaloid history and their cultural significance in Japan – putting all this Miku mania within a fascinating wider social context.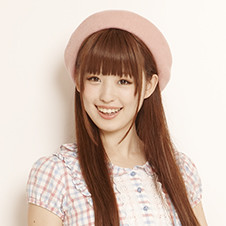 Hyper Japan has also confirmed that the singer Anna Yano (pictured left) will be returning to the event. Yano performed the opening songs for Magica Wars and Stella Women's Academy, High School Division Class C3.
The Hyper Japan Christmas Market in London runs from November 14 to 16. Ticket information is here. The event will take place at the National Hall at Kensington Olympia.
---