News

Yu-Gi-Oh!: The Dark Side of Dimensions Film's English Dub Video Previews 2 Scenes

posted on by Kevin Yuan
Film opens in U.S., Canada on January 27
---
Media distribution service Crunchyroll began streaming on Sunday a two-minute sneak peek video from the English dub of the upcoming Yu-Gi-Oh!: The Dark Side of Dimensions anime film. The video previews a scene where Yugi Muto (Dan Green) talks about Yami Yugi with Joey Wheeler (Wayne Grayson) and Téa Gardner (Amy Birnbaum), and a second scene where a Neo Blue-Eyes Ultimate Dragon seems to attack a crashing jet at a Kaiba Corporation stadium.
The official Yu-Gi-Oh! YouTube channel began streaming a video last week showing a scene where Yugi meets up with Téa.
The company confirmed that the original English dub cast is returning for the new movie. Voice actor Daniel J. Edwards will portray the new character Aigami.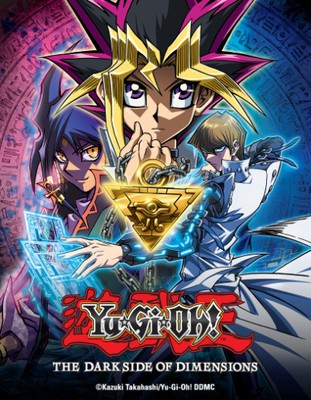 The film premieres in the United States and Canada on January 27, 2017, and will screen in more than 500 theaters in the two countries. Attendees will receive a Yu-Gi-Oh! trading card while supplies last. Screenvision Media began offering pre-sale tickets last month for screenings in the United States.
Manga Entertainment and 4K Media will open the film in the United Kingdom and Ireland on February 1, 2017.
The Yu-Gi-Oh!: The Dark Side of Dimensions film opened in Japan on April 23 on 137 screens, and eventually earned more than 1 billion yen (about US$9 million). The film also received 4DX and MX4D screenings in Japan beginning on September 24.
A new Yu-Gi-Oh! anime series will premiere in spring 2017 on TV Tokyo. The series will feature a new protagonist, Yūsaku Fujiki.
---