News

Live-Action Laughing Under the Clouds Film Reveals 4 More Screenshots

posted on

2018-01-20

12:45 EST by Crystalyn Hodgkins
Film opens in Japan on March 21
---
The official Twitter account for the live-action film of Kemuri Karakara's Laughing Under the Clouds (Donten ni Warau) manga revealed four more screenshots from the film on Friday.
The film will open in Japan on March 21. The film also inspired a live-action prequel spinoff titled Tenka, Yamainu Yameruttesa (They Say Tenka is Quitting the Yamainu) that streamed on January 1.

The film stars:
Sōta Fukushi as Tenka Kumō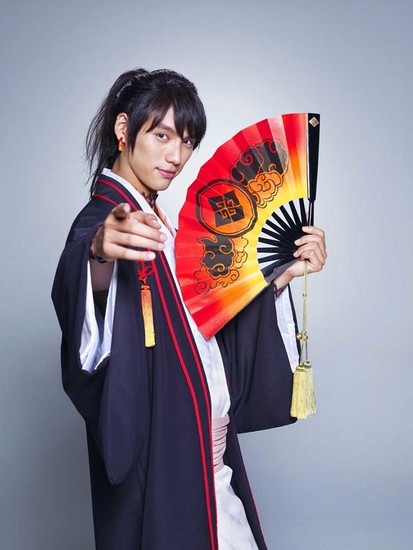 Kirato Wakayama as Chūtarō Kumō


Renn Kiriyama as Shirasu Kinjō. Shirasu arrived at Kumō Shrine gravely injured, and Tenka nursed him back to health. They have become close friends ever since, and he has lived in the shrine and become like another brother to the Kumō brothers.


Yūki Furukawa as Abe no Sōsei, the leader of the Yamainu Squad. He holds himself to a strict standard, and is honest and stubborn. He is an old friend to Tenka, but he has not yet forgiven Tenka for leaving the squad.


Shunsuke Daito as Seiichirō Takamine, the vice-captain of the Yamainu Squad, formed by Tomomi Iwakura to find and exterminate Orochi. He wields a large zanbatō sword, and team leader Abe no Sōsei places great confidence in him.


Yūta Koseki as film-original character Ren Nagayama, a member of the Yamainu Squad


Tomohiro Ichikawa as Rakuchō Takeda, the newest member of the Yamainu Squad


Masaki Kaji as Zenzō Inukai, the oldest member of the Yamainu Squad


The Fūma Clan of ninjas plotting to rule the world (from left to right in picture below):
Ryuuya Wakaba as Kiryū
Junya Ikeda as Hayakage
Eita Okuno as Raiga
All three are original characters for the film

In addition, Yūma Nakayama will play the character Soramaru Kumō, and Noriyuki Higashiyama will play Tomomi Iwakura.
Katsuyuki Motohiro (Psycho-Pass chief director) is directing the film, and Yuuya Takahashi (Laughing Under the Clouds anime series, Tiger & Bunny, Lupin the Third) wrote the script. Rock band Sakanaction is performing the theme song "Kagerō" (Heat Haze), as well as the opening song "Donten ni Warau -opening&ending‐with GOCOO."
Source: Comic Natalie
---