News

The Piano Forest TV Anime's Promo Video Reveals Additional Cast Members, Pianists

posted on by Rafael Antonio Pineda
---
The official website for the television anime of Makoto Isshiki's Piano no Mori (The Piano Forest) manga began streaming a promotional video for the anime on Monday. The video reveals additional cast for the anime and the real-life pianists performing for the different characters.

The additional cast includes:
The website also began streaming a video featuring some of the pianists that will portray some of the characters' performances.
The pianists, and the characters they will perform pieces for, include Kyohei Sorita (Sōsuke Ajino), Takagi Ryoma (Shūhei Amamiya), Niu Niu (Wei Pang), Szymon Nehring (Lech Szymanowski), and Juliette Journaux (Sophie Ormesson). The anime will also feature performances by junior pianists Kotone Uehara, Modan Oyama, Kamuro Sahara, and Ayano Baba to portray the performances of the show's main characters Kai, Shūhei, or Takako in their childhood years. Nippon Columbia hosted an audition for the junior pianists.
The previously announced cast includes:
Sōma Saitō as Kai Ichinose



Gaku Nakatani (Madagascar 3 CG supervisor) is directing the anime at Fukushima Gainax. Aki Itami (Flowers of Evil, Mushi-Shi, Rainbow Days) and Mika Abe (Danchi Tomoo) are in charge of series composition. Sumie Kinoshita (Girlish Number, A Sister's All You Need) is designing the characters, and is also credited as chief animation director.
Aoi Yūki (Saga of Tanya the Evil, Hakumei and Mikochi) is performing the ending theme song "Kaeru Basho ga Aru to Iu Koto" (To Have a Place to Come Home to). The song's CD single is slated for April 25.
The anime will premiere on NHK on April 8 at 12:10 a.m. (effectively April 9 morning).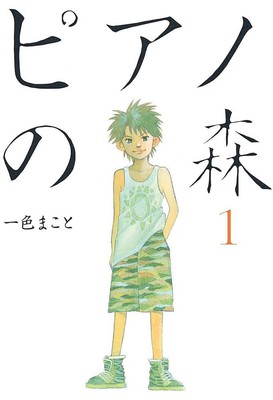 The manga follows two boys from different walks of life. Kai was born the son of a prostitute and learned to play an abandoned piano in the forest by his home. Shūhei is child of two prestigious pianists. The two boys end up meeting through their one common thread: music.
Isshiki launched the series in 1998 in Kodansha's Young Magazine Uppers until the magazine ceased publication in 2004. The series resumed in 2006 in Morning magazine, and it ended in November 2015. Kodansha published the 26th and final volume of the series in December 2015.
MADHOUSE adapted the manga into an anime film in 2007. The manga won the Japan Media Arts Festival prize in the Manga category in 2008. Isshiki's 1993 manga Hanada Shōnen-shi received a television anime adaptation in 2002 and a live-action film adaptation in 2006.
Source: The Mainichi Shimbun's Mantan Web
---