News

Sega Announces New Sin Chronicle Smartphone RPG

posted on by Alex Mateo
Game launches on December 15
---
Sega announced during a Tokyo Game Show program on Friday a new role-playing game titled Sin Chronicle for iOS and Android devices that will launch in Japan on December 15. The game will be a successor to Sega's Chain Chronicle smartphone game, and it shares a similar development team, including general director Jun Matsunaga. Pre-registration opens on Saturday.
Trailer
Full Presentation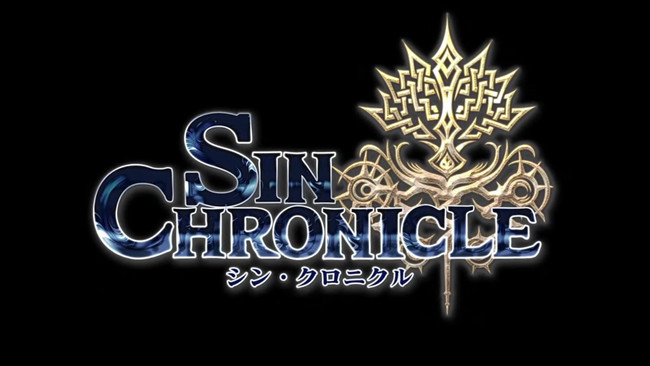 The game will feature a new story that stands alone from Chain Chronicle. Player choices, including who is in the party, will impact the game's story. Each of the game's chapters will have a climactic choice, and players cannot redo decisions. Each chapter will be about 10 hours long.
The cast includes:
Taito Ban as the protagonist, a young knight

Shiori Izawa as Myutos, a spirit confined inside an animal that was released from the "Chronicle" book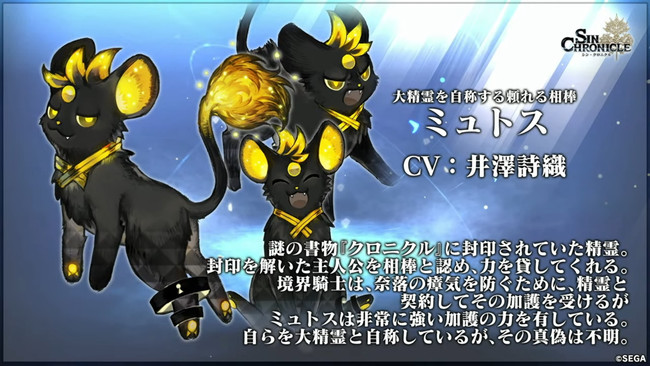 Aoi Yūki as Sera and Chloe, both of whom are main heroines, but the player can only choose one
Sera

Chloe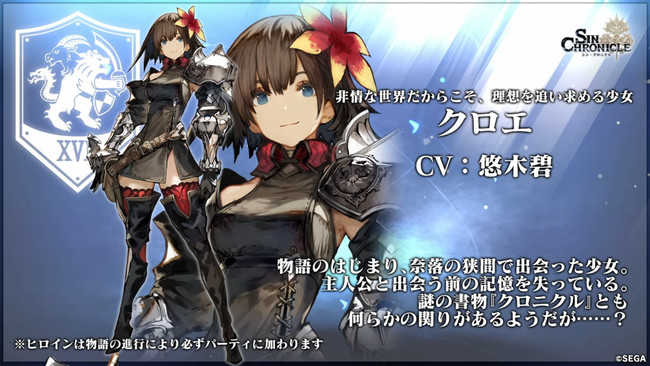 Honoka Kuroki as Maaya, who comes from an island tribe and is sent to work for the knights

Yūichi Nakamura as Gunter, a veteran knight and Kana Hanazawa as Anne, another knight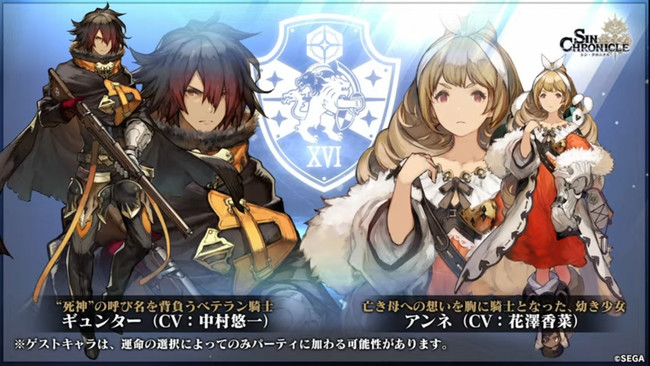 The staff teased that there are at least 17 playable units.

The RPG will feature turn-based combat. Characters can attack multiple times depending on how many points (BP) they have. Certain attacks will be more effective against different enemies.

Kevin Penkin (Made in Abyss) is composing the soundtrack, and there will also be guest composers.
Sega's Chain Chronicle smartphone game launched in 2013 for iOS and Android devices, and in 2014 for PlayStation Vita. The game inspired the theatrical and television anime Chain Chronicle: Haecceitas no Hikari (Chain Chronicle: The Light of Haecceitas).
The anime project had both a theatrical and a television version. The theatrical version was split into three films. The three films debuted in Japan between December 2016 and February 2017. The 12-episode television anime version premiered in January 2017. Each of the three anime films has the same story content as four television episodes. Crunchyroll streamed the series as it aired in Japan, and Funimation streamed an English dub.
Update: Added trailer. Source: Sega's YouTube channel
Source: Tokyo Game Show livestream
---
this article has been modified since it was originally posted; see change history