Wu Music Group Issues Second Release / Follow Up to Wu-Tang Clan's "8 Diagrams": The RZA to Present "Afro Samurai: Resurrection" Out January 27, 2009, Appear in New Judd Apatow Film
Dec 10th 2008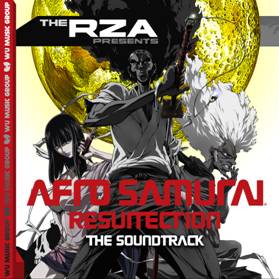 Wu Music Group, the new label ran by the administrative mind of Mitchell "Divine" Diggs and the creative force of Wu-Tang Clan's chief architect, "The
RZA
", will release their second album,
Afro Samurai
: The Resurrection, on January 27th, 2009. The album is the soundtrack to season two of
Spike TV
's critically lauded animated television show and DVD featuring the voice of
Samuel L. Jackson
and is musically produced entirely by
Wu Tang
Clan's The RZA. The soundtrack features unlikely collaborations and guest spots from legendary recording artists such as Sly Stone, members of the Wu-Tang Clan, Kool G Rap, Rah Digga, and a whole cast of RZA's protégé's, including the late Ol' Dirty Bastard's son – Boy Jones. This highly anticipated release demonstrates RZA's incredible genius and ability to unite some of the finest voices in hip-hop together in one place. The multi-talented producer/actor will also hit the big screen again later in the year as he co-stars in the upcoming comedy from writer/director Judd Apatow (The 40-Year-Old Virgin, Knocked Up) out summer 2009. He will be seen alongside Adam Sandler, Seth Rogen and Leslie Mann in Funny People, the story of a famous comedian who has a near-death experience.
The Afro Samurai animated series debuted on Spike TV in 2006 and was the best-selling anime DVD release of 2007. In
Afro Samurai: Resurrection
, Academy Award® -nominated actor Samuel L. Jackson returns as the voice of the solitary warrior Afro Samurai and his sidekick Ninja Ninja as well as executive-producer of the this stylish series. Joining the cast this season is
Lucy Liu
(Dirty Sexy Money, Charlie's Angels,
Kill Bill
) as Sio, the seductive and sadistic mastermind plotting to destroy Afro. Also newly cast is
Mark Hamill
(Star Wars) as Bin, Sio's servant and protector.
RZA's 2007 soundtrack to season one of the Afro Samurai series introduced the world to a new team/swarm of the Wu disciples and included legendary collaborations with Big Daddy Kane, Q-Tip, Talib Kweli, and more never thought to be captured on tape. The exceptional follow up comes with deluxe packaging and O-Card and features the Wu-Tang mastermind at his architect best, drawing up the blueprint for a new dimension of sound and collaborations with friends old and new.
Afro Samurai: Resurrection marks another milestone for Wu Music Group, which recently announced a comprehensive partnership with The Orchard, to distribute and market the label's popular catalogue worldwide. The Orchard and Wu Music have digitally released the label's entire catalogue of unreleased material, including important recordings from RZA and other Wu-Tang Clan members, and will be marketing and distributing future physical and digital releases, beginning with Afro Samurai: Resurrection, from current label acts and new signings. The saga will continue, as the Diggs brothers breathe new life into the legacy of the Wu-Tang Clan. The RZA is also currently on tour with the Wu-Tang Clan - dates below!
RZA ON TOUR W/ WU-TANG CLAN
12.10.2008 DENVER, CO OGDEN THEATRE
12.11.2008 FORT COLLINS, CO AGGIE THEATER
12.14.2008 CHICAGO, IL HOUSE OF BLUES -
12.15.2008 MINNEAPOLIS, MN FIRST AVENUE
12.17.2008 CLEVELAND, OH HOUSE OF BLUES
12.18.2008 ROCHESTER, NY MAIN STREET ARMORY
12.19.2008 PHILADELPHIA, PA THE TROCADERO THEATRE
12.20.2008 NEW HAVEN, CT TOAD'S PLACE
12.21.2008 SAYREVILLE, NJ STARLAND BALLROOM
12.23.2008 NEW YORK, NY HAMMERSTEIN BALLROOM
12.27.2008 LANCASTER, PA CHAMELEON
12.31.2008 BALTIMORE, MD SONAR
01.01.2009 WASHINGTON, DC 9:30 CLUB
01.02.2009 PROVIDENCE, RI LUPO'S HEARTBREAK HOTEL
01.04.2009 SOUTH BURLINGTON, VT HIGHER GROUND
01.07.2009 NORFOLK, VA THE NORVA
01.08.2009 RICHMOND, VA TOAD'S PLACE RICHMOND
01.09.2009 GREENSBORO, NC THE N CLUB AND RED ROOM
01.10.2009 CHARLESTON, SC THE MUSIC FARM
01.11.2009 CHARLOTTE, NC AMOS' SOUTHEND
01.12.2009 RALEIGH, NC LINCOLN THEATRE
01.13.2009
COLUMBIA
, SC LEVEL
---
this article has been modified since it was originally posted; see change history
Around The Web