×
remind me tomorrow
remind me next week
never remind me
Subscribe to the ANN Newsletter • Wake up every Sunday to a curated list of ANN's most interesting posts of the week.
read more
UCLICK Offers Free Dramacon Comic App on Apple's App Store
Kansas City, MO, March 17, 2009 -- Uclick, the #1 distributor of comics and manga on mobile, in partnership with graphic novel and manga publisher
TOKYOPOP
, has announced the release of
Dramacon
Volume 1, Part 1 from TOKYOPOP, as a free app on
Apple
's App Store. The free app is a full-length comic book application featuring the first of five installments that make up volume one of the international bestselling manga.
The free Dramacon Volume 1 Issue 1 app from Uclick and TOKYOPOP is available now on Apple's App Store.
The free app is available now in the App Store on iPhone or on
iTunes
. Users can also access the free Dramacon app through the Uclick Web App by typing Uclick.com into the Safari browser.
"We're making Dramacon 1.1 free because it gives us a chance to show off our panel-by-panel reading format with a very popular book from our lineup," said Uclick CEO Douglas Edwards. "The Uclick comic apps offer the slickest and most intuitive comics reading experience on the iPhone and iPod
Touch
, and we offer the widest variety of titles and genres on the Apple devices.
"We want users to have the chance to try the reader for free and experience it for themselves, then check out our library of more than 100 titles and find more great comics."
TOKYOPOP's Senior Editor Lillian M. Diaz-Przybyl added, "As leaders in original manga and graphic novel creation, it's been a real pleasure to work with Uclick, who are clear front-runners in mobile entertainment. Their understanding of the marketplace and of the structure of comics is second-to-none, ensuring that their mobile versions are perfectly constructed and paced, retaining the experience of reading the original graphic novel."
The Dramacon Volume 1, Part 1 app is the first free application from Uclick and TOKYOPOP. Most of the Uclick comic apps are available for $0.99 (US) cents. Other popular comic app titles from Uclick include Bone, Ghostbusters, Pibgorn, GODLAND, Teenage Mutant Ninja Turtles and Garfield Minus Garfield.
Dramacon is
Svetlana Chmakova
's story of a manga artist attending her first fan convention. As her status quo unravels, encounters with her manga idol and a mysterious stranger take her life in an unexpected and exciting new direction.
"This is a very popular manga title with a large, loyal fan base," said Edwards. "The story is instantly accessible and emotionally addictive, which makes Dramacon a great fit for all kinds of audiences, from diehard manga fans to those who've never read manga before."
"Svetlana's work has touched hearts and tickled funny-bones worldwide," Diaz-Przybyl said, "so Dramacon was an obvious choice when it came to launching a new series through the App Store. We look forward to both current fans and new readers discovering the joy of Dramacon in this exciting new format!"
The free Dramacon app for the iPhone and iPod Touch features tap-and-swipe, panel-by-panel controls. The Apple devices' large Multi-Touch displays enable a clear, high-resolution presentation. The zoom feature allows an even closer look at any panel.
To receive the Dramacon free app and other favorite comic books, manga, webcomics and graphic novels for the iPhone and iPod touch go to the Uclick Web App by typing Uclick.com into the Safari browser or visit the App Store on the iPhone or on iTunes.
About UCLICK:
UCLICK® is the leading digital entertainment provider of humor, comic strips, manga, graphic novels, editorial cartoons, and other content for desktop, web and mobile phones. Uclick is also the leading creator and distributor of crosswords, and other word and number puzzles. Partners featuring Uclick content include the leading consumer portals
Yahoo!
, MSNBC.com, New York Times, Slate.com, washingtonpost.com,
CNN
, USA Today, and AOL. Uclick features include the top brand franchises Garfield, Doonesbury, Calvin and Hobbes, Paul Frank, Teenage Mutant Ninja Turtles, TOKYOPOP, USA Today, Pat Sajak, Wyland, and many more. Uclick creative content and services are available through the GoComics.com website, U.S. mobile phone operators, the iTunes App Store, and other distributors worldwide. UCLICK, LLC is a division of Andrews McMeel Universal, the leading newspaper syndicate and publisher of humor books and calendars in North America.
For more information on Uclick, visit www.uclick.com.
About TOKYOPOP:
TOKYOPOP is hailed as a leading youth-oriented entertainment brand and an innovator of manga creation, with a revolutionary artistic vision that transcends countless platforms. From the introduction of the first-ever extensive manga publishing program in North America, to the development of its manga-originated intellectual properties into film, television and digital entertainment, TOKYOPOP has changed the way teens experience pop culture. The company's global reach has expanded to Europe and Asia, with recent offices opening in the UK and Germany and upcoming partnerships in Australia and China, in addition to its original Los Angeles and Tokyo operations. With millions of fans logging onto the new social networking site www.TOKYOPOP.com, reading its books, which are licensed in 41 countries in more than 20 languages, and watching its DVDs and television programs, TOKYOPOP's award-winning catalogue of licensed and original properties has made the company a visionary in an ever-growing teen entertainment marketplace.
Visit www.TOKYOPOP.com for additional information.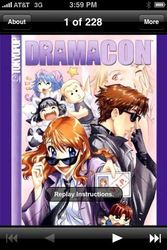 ---