New People in San Francisco Announces New Japanese Pop Art Exhbition
THE EXOTIC FLAIR OF JAPANESE POP ART COMES TO SAN FRANCISCO IN THE TOKYO CREATORS MARKET EXHIBIT AT NEW PEOPLE
Dynamic Pop Culture Venue Also Teams With Bazaar Bizarre S.F. To Present Special All-day, All-floor Art Emporium

San Francisco, CA, November 9, 2009 – NEW PEOPLE, a dynamic new entertainment destination bringing the latest examples of Japanese popular culture to North American shores, opens the TOKYO CREATORS MARKET, an extensive exhibit of work by several celebrated visual artists from Japan. Junko Mizuno, ON ZA LINE, and Kim Songhe are among the featured artists and will attend the show's opening.
The TOKYO CREATORS MARKET opens Saturday, November 21st and runs through the beginning of the next year inside NEW PEOPLE's SUPERFROG Gallery, a bright and spacious 2,000 square foot exhibit space located on the venue's 3rd floor. The exhibit is free and additional information is available at http://www.superfroggallery.com. Preceding the opening, a special sneak preview party is held on Friday, November 20th at 6pm to 8pm by invitation only, with appearances by Junko Mizuno, ON ZA LINE, and Kim Songhe flying in from Tokyo. To receive an invitation, sign up for an e-mail newsletter at www.newpeopleworld.com.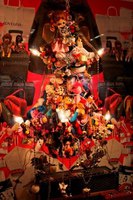 To complement the show's opening and entice those with early holiday shopping in mind, NEW PEOPLE and Bazaar Bizarre S.F. present the NEW PEOPLE ARTIST VILLAGE Vol.1. Ten vendors in kiosks stationed throughout the building will offer works from a mix of Asian and Western artists influenced by Japanese pop culture. The special all-day, all-floor vertical art village takes place – for one-day-only – on Saturday, November 21st from 10:00am to 8:00pm. NEW PEOPLE ARTIST VILLAGE will also have the sneak preview on November 20th at 6:00-8:00pm by invitation only.
Before departing, visitors are also invited to explore the TOKYO CREATORS GARDEN, a serene and sunny brand new emporium on the 2nd floor that is inspired by the work of artists and craftsmen from Japan. Visitors may browse the many pieces on display or just relax in the colorful environment.
"Pop culture serves as a theme with limitless possibilities for artistic expression and we're very excited to present one of the most unique art shows to come to San Francisco this year," says Seiji Horibuchi, the Founder of New People. "Each of these artists is distinctive in their own expression, originality and style. We invite everyone to use Japanese pop culture as inspiration in their own lives and to join us for this special event!"
Artists To Be Featured At The TOKYO CREATORS MARKET Include:

JUNKO MIZUNO
Junko Mizuno has a huge following in the United States and is widely known for her provocative and strong feminine imagery. She has published numerous manga comics and will present several 3D wall pieces for the exhibit as another expression of her original style.
KAZMO
Kazmo, screen printer extraordinaire, entertains visitors with kitschy playfulness and dark nostalgia and reminds audiences of childhood, when the world was a blank coloring book ready to be doodled on. Part of the NEW PEOPLE ART Detour, Kazmo is back with a new line of expressive prints.
KIM SONGHE
Kim Songhe, a Korean national born in Tokyo, is known for sculptures made of natural materials and reusable wastes. Currently, she designs shop window displays and creates original made-to-order chandeliers. She says that she wants to bring new life to objects that were almost dying.
MIKITO OZEKI
Mikito Ozeki describes his work as "an ambiguous something with no answer." The BODY series is commonly depicted as "figures like robots." By presenting an ambiguous "something" with the distinct clear lines and forms of a paper cutout, Ozeki stimulates the wavering of human values.
NORITAKE
Noritake uses simple lines and combines motifs that have nothing in common. He picks out and draws a portion of an image he finds in his own photos, old magazines, and picture books, as well as adds new elements. Viewers can make their own discoveries while glancing at his images.
ON ZA LINE
The ON ZA LINE design team starts with no specific definition for the end result. They enjoy people's reactions to their work that are handmade through a lengthy process. Each item is instilled with what ON ZA LINE sees as the true essences of life - sentiments, passion, atmosphere and time.
YUICHI YOKOYAMA
Yuichi Yokoyama delivers his art in the form of comic illustrations often consisting of numerous nameless characters in transit or in action. With a global following that stems from his publications, this is a rare chance to encounter his work on display here in the U.S.
About Bazaar Bizarre San Francisco
Bazaar Bizarre began in 2001 in Boston as an offbeat entertainment extravaganza to showcase the DIY movement and handmade goods. Bazaar Bizarre has spread across the nation to places such as Los Angeles, Cleveland, Maker Faire Bay Area and Austin. Bazaar Bizarre San Francisco is a Handmade market, Indie entertainment extravaganza and D.I.Y. Festival all under one roof. We have quality handmade arts and crafts for sale, DIY workshops and entertainment.
More information at: http://www.bazaarbizarre.org/sanfrancisco
About NEW PEOPLE
NEW PEOPLE offers the latest films, art, fashion and retail brands from Japan and is the creative vision of the J-Pop Center Project and VIZ Pictures, a distributor and producer of Japanese live action film. Located at 1746 Post Street, the 20,000 square foot structure features a striking 3-floor transparent glass façade that frames a fun and exotic new environment to engage the imagination into the 21st Century. A dedicated web site is also now available at: www.NewPeopleWorld.com.
---