May Issue of World's 1st Digital Manga Magazine "COMICLOUD" on Sale Soon
BookLOUD Inc. simultaneously releases the May issue of Monthly COMICLOUD (Vol. 2, No. 5)—the world's first digital manga magazine that entered publication in July 2010—worldwide on May 30, 2011 for the Amazon Kindle, Kindle DX and Android.

New Episodes of Hit Manga Series!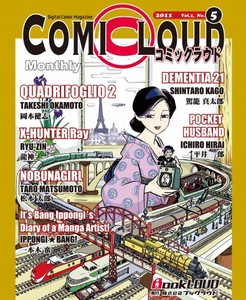 Read more from Takeshi Okamoto's QUADRIFOGLIO 2, the world's only dedicated Alfa Romeo manga, along with DEMENTIA 21, a uniquely surreal and nonsensical work released by the genius Shintaro Kago! There's also X-HUNTER RAY, the near-future sci-fi story by Ryu-Zin; NOBUNA-GIRL, Taro Matsumoto's foray into the Warring States period; as well as IT'S BANG IPPONGI'S DIARY OF A MANGA ARTIST, in which Bang weaves her tale about the daily life of a manga artist. And this issue has the episode 2 of POCKET HUSBAND, unique genre of "model railroad manga" written by Ichiro Hirai.
Release of COMICLOUD's 2nd Book: DEMENTIA21
In June 2011, BookLOUD Inc. will release Volume 1 of DEMENTIA21 as its second publication of an e-book series. This book will has Shintaro Kago's works that have appeared in COMICLOUD. You can enjoy Kago's peculiar world.


About COMICLOUD Android Edition
COMICLOUD Android edition is generated with Androbook (http://androbook.lolo.jp/) developed by Fukuyuki Murakami, CEO of CRAZYWORKS, Inc. (http://crazyworks.jp/)
Product Details
Title: COMICLOUD Vol. 2, No. 5
Genre: Digital Manga Magazine
Specs: Bilingual English & Japanese edition (Kindle), Monolingual English & Japanese editions (Android)
Pages: 195 pages (Kindle), 98 pages (Android)
Price: US$6.99 (Kindle, incl. cost transmission), JPY400 (Android)
Official Website
http://www.comicloud.net/


About BookLOUD Inc.
BookLOUD Inc. is dedicated to spreading excellent Japanese entertainment content around the globe! We are Japan's first digital publisher aiming to offer a new place where people can engage in social communication through e-books.
For inquiries regarding this press release, contact:
[email protected]
"Kindle" and "Amazon Kindle" are registered trademarks of Amazon.com, Inc. (USA).
"iPhone" and "iPad" are trademarks of Apple Inc. (USA).
"Android" and "Android Market" are registered trademarks of Google Inc. (USA).
---