×
remind me tomorrow
remind me next week
never remind me
Subscribe to the ANN Newsletter • Wake up every Sunday to a curated list of ANN's most interesting posts of the week.
read more
BOFURI: I Don't Want to Get Hurt, so I'll Max Out My Defense. Season 2
Episode 9
by Christopher Farris,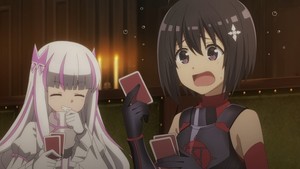 After what feels like weeks of working up to it,
BOFURI
finally arrives at the actual, real, formal beginning of the eighth in-game event. And so, in finally getting underway, the results are…honestly a bit underwhelming at first. Combat with other players and guilds isn't going to be a factor in this instance, so if you were hoping for some follow-up on the potentially teased future battles with the likes of Payne or Mii, you're going to be disappointed. The whole point of how this piece was put together is for the characters to defeat more monsters and collect more collectibles, which has been the driving background noise of this whole game/show from the beginning.
BOFURI, of course, settled into its VRMMO iyashikei niche long ago, so there's no question it'll be perfectly pleasant to take in even as it's cruising along in a format we've gotten all too familiar with this deep into the show. At first, it looks like this will be another broad showcase of the Maple Tree guild's new monster-pal powers, which is, again, fine, but hardly new territory for the series at this point. Even as I am amused by seeing just what super-strong indulgences the likes of the hammer sisters' rideable bear buddies can get up to; eat your heart out Kuma Kuma Kuma Bear.
No, by focusing on all of Maple Tree all at once in an event like this, the unique selling point of this episode and story starts to take shape. It has been a while since we saw Maple's team all get to work together as one big group. Their unique cohesion of personalities, really letting them come off as relaxed and natural regardless of whether they're battling through swamp slimes or fending off invisible ninja monsters, communicates its appeal. There is a little division as they make decisions on the pros and cons of splitting up or staying together, the strategizing of which gives Sally, thankfully a bit more to do in a season where she's been otherwise underutilized. But even then, we know BOFURI can step things up.
That makes the second half of this episode the more appreciated indulgence, introducing new gameplay aspects the show and characters can interact with and providing functional funny time fodder. The earlier gesturing at group-based base-building initially made me think this NWO event would be angling for a Fortniteapproach, but how things go, courtesy of Maple Tree's efforts becomes more akin to 7 Days To Die, if you've ever played that one. That's an oblique comparison since the joys of crafting and base construction are communicated in BOFURI's inimitable style, primarily thanks to Maple keeping up her renewed goofy streak we saw resurging last week. Our unstoppable engine of empty-headed shield vengeance filling up a room with unconventional cat traps or stumbling face-first into Mai and Yui's cave full of exploding Minecraft boxes; this is why we're here.
It's a unique new swerve for BOFURI, specifically in the difference of appeal. I'd mentioned before how this show had done well in making me wish some of its other VR gameplay indulgences, like explorative sightseeing or sampling virtual delicacies, were actual mechanics I could try engaging with. Comparatively, the kind of survival-based craft-'em-up mechanics that Maple Tree gets up to here are some I couldn't be less interested in playing for myself. However, it still makes the whole scenario entertaining to follow in a fun cartoon context. It sure seems satisfying to get a network of monster-neutralizing gimmicks so satisfactorily set up that you and your friends can kick back and play Uno for the rest of the evening. And doesn't that fit with the way 50% of Maple's interaction with NewWorld Online is just having a place to screw around with her friends?
So it's nothing approaching the sweeping, climactic storyline you might have expected from the way this event was hyped up (and you hadn't, uh, paid attention to the way BOFURI does stuff before). But it remains true to the show's spirit while still slotting in some new spins on said spirit. The various backgrounds we see throughout this first stretch of the adventure continue to highlight the show's visual appeal even as the actual animation remains inconsistent at best. And for all my consternation over not using the other guilds for this part, it's appreciable to see the show reprioritize to remember to keep giving Iz stuff to do or reiterate why Maple and Sally's working relationship is every bit as strong as their marriage. Sure, it starts off feeling a bit samey, but there's enough of a new spin by the end that I've got no problem settling in with the crew in their card game cave to see where else they might go.
Rating:
BOFURI: I Don't Want to Get Hurt, so I'll Max Out My Defense. Season 2 is currently streaming on Crunchyroll.
Chris is a freewheeling Fresno-based freelancer with a love for anime and a shelf full of too many Transformers. He can be found spending way too much time on his Twitter, and irregularly updating his blog.
---
discuss this in the forum (16 posts)
|
back to BOFURI: I Don't Want to Get Hurt, so I'll Max Out My Defense. Season 2
Episode Review homepage / archives