RIGHT TURN ONLY!!
Monster Piece Theatre
by Carlo Santos,

After the many responses to the Death Note review in my last column, I got to thinking about one of my favorite books, Gödel, Escher, Bach by Douglas Hofstadter. It's a ridiculously interdisciplinary work—knowing some math helps, knowing some molecular biology helps, being able to read music helps, some programming experience helps, and so on. Anyway, what I was thinking was, Death Note's dialogue would go down smoother if Light and L each had copies of the book and just did their reasoning in Propositional Calculus. Math, after all, is a universal language.
As to whether anyone would want to read their manga that way—who knows.
---
EDEN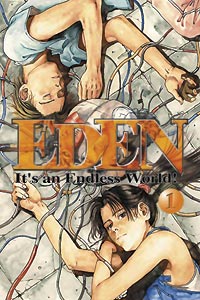 Vol. 1
(by Hiroki Endo, Dark Horse, $12.95)

FROM THE BACK COVER:
"Eden is both a brilliant love song to the post-apocalyptic survival genre and an exploration on humanity's role in the natural order. When a large portion of civilization is wiped out by a brutal new virus, those who aren't immune are either severely crippled or love only with cybernetically enhanced or entirely mechanical bodies. Taking advantage of a world in chaos, the paramilitary Propater forces topple the United Nations and seek global domination. In this cutthroat, cyberpunk future, Elijah—a young boy on a personal quest—travels with an artificially intelligent combat robot through a pitiless, futuristic landscape."
PROS:
Hiroki Endo is one manga-ka who does his research. The ambitious first chapter of Eden tackles politics, religion, homosexuality, biotechnology, artificial intelligence, and the nature of humanity, all the while chronicling a sad, inevitable apocalypse. It's like all high-level science fiction rolled into one, and only two teenagers emerge from it alive. The near-future setting, based strongly on real-world politics and science, makes it all the more believable. Endo's attention to detail also carries over to his artwork, where lush foliage and intricate machinery are rendered with equal care.
CONS:
After Chapter 1, however, the rest of the volume jumps twenty years forward and into a snore-inducing survival scenario. Over a hundred pages of exposition, flashbacks and character development are suddenly tossed away in exchange for some short-haired kid and a robot traipsing through a literal urban jungle. It's a sobering reminder that rolling up all science fiction into one also means rolling up the clichés, including a Ghost in the Shell rip-off and musings on the nature of humankind. A "brilliant love song," perhaps, but like so many love songs, overplayed.
RTO!! RATING: B
---
GOLGO 13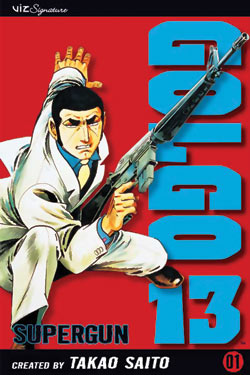 Vol. 1
(by Takao Saito, Viz Media, $9.99)
FROM THE BACK COVER:
"For four decades, Golgo 13 has been the world's greatest assassin for hire—sometimes to settle a private score, and sometimes to change history! His real name and nationality are unknown—but his legend is everywhere. G13 never fails a job, and never sees his clients again—unless they try and betray him!
In 1991, UN inspectors found the incomplete Project Babylon—a cannon capable of hurling a shell 600 miles. In 1997, the Clinton administration learns of a second, hidden Iraqi supergun—now operational, and with a much, much longer range... There are only two options to destroy the supergun: send in an airstrike—or send in Golgo 13! Then, flash back to 1979 on the streets of San Francisco, where a hit-and-run accident intersects with a mob boss's terror that he is G13's next target... Plus excerpts from the FILE 13 dossier revealing the secrets of his personal data, false identities, and more!"
PROS:
Like a good Tom Clancy thriller, "Supergun" is a wild political fantasy based on solid, real-life situations. Cast members include familiar faces like Bill Clinton, Madeleine Albright, and everyone's favorite, Saddam Hussein. The side story, "Hit and Run," is more mundane, but watching a mobster's increasing paranoia over Golgo 13 is a classic study in building up tension. The artwork may not have any flourishes of modern style, but the character designs are amazingly consistent and Golgo's action scenes are as coolly efficient as the man himself.
CONS:
Despite being the main character of the series, Golgo 13 doesn't actually show up very often. He appears in about four scenes during the supergun saga, and is only talked about in the second story. He may be a man of mysterious ways (his trademark line: "........."), but this first volume makes the crippling mistake of telling, rather than showing us, how awesome Golgo supposedly is. Why would I want to see government officials discussing his ruthless brilliance when it'd be much cooler to see him blowing off people's heads?
RTO!! RATING: C
---
KAMIKAZE KAITOU JEANNE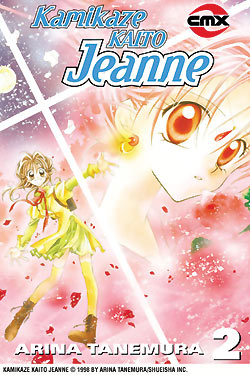 Vol. 2
(by Arina Tanemura, CMX, $9.99)
FROM THE BACK COVER:
"While Jeanne saves souls, who will rescue Maron's?
The battle against demon-possessed paintings continues as Kaito Jeanne and Sinbad's competition heats up! Meanwhile, life at school grows complicated for Maron, as she must deal with her growing feelings for Chiaki and her guilt over being kissed by Sinbad—not realizing they're one and the same! And Chiaki hides a dark secret that could shatter everything!"
PROS:
If you thought Kamikaze Kaito Jeanne was going to turn into one of those monster-of-the-week magical girl affairs, this volume blows that perception away. Maron goes into battle as Jeanne just once, and the rest of the story develops the rich relationships between characters—Maron and Chiaki's conflicted romance, the question of Maron's absent parents, and even best friend Miyako's back story. With expressive character designs and sprinklings of comedy to sweeten the angsty edge, Tanemura dishes out emotion like all good shoujo artists should.
CONS:
Just because it stays away from a standard battle formula doesn't mean that Jeanne is immune to other clichés. Maron does a lot of dramatic running away whenever faced with a problem, and the mascot characters Finn and Access are pretty useless (to see mascots that actually matter in the story, try Tanemura's more recent Full Moon wo Sagashite). The sprawling, heavily toned layouts and ambiguous dialogue can be confusing, too—although the art is often picturesque and striking, it doesn't always tell the story clearly.
RTO!! RATING: C+
---
MONSTER


Vol. 1
(by Naoki Urasawa, Viz Media, $9.99)
FROM THE BACK COVER:
"An ice-cold killer is on the loose, and brilliant Dr. Kenzo Tenma is the only one who can stop him! Conspiracies, serial murders, and a scathing indictment of hospital politics are all masterfully woven together in this compelling manga thriller. Tenma risks his promising medical career to save the life of a critically wounded young boy. Unbeknownst to him, this child is destined for a terrible fate. Who could have known that Tenma would create a monster!"
PROS:
If Naoki Urasawa had only the storytelling skills and nothing else, Monster would still be awesome. The first volume has enough content to kick-start multiple stories—medical drama, crime thriller, and morality play. Rather than picking just one direction, though, Monster is all these things at once, taking us on a whirlwind ride of Dr. Tenma's career before even meeting the killer at the heart of the story. While Urasawa's artwork isn't flashy, it's solid, and he draws facial expressions like no one else, completing the emotional dimension of the story.
CONS:
What, I'm supposed to say something bad about Monster? Okay, let's try...  the dialogue tries too hard to be suspenseful at times, like in Inspector Lunge's monologue about the Liebert case. By subtly accusing Dr. Tenma of being a killer, Lunge gives him a good scare, but would any real detective divulge facts like that? The same thing happens when Dr. Becker discusses hospital politics. It establishes character well, but at the same time feels contrived, disrupting the flow of an otherwise excellent story.
RTO!! RATING: A
---

MUSHISHI


Vol. 1
(by Yuki Urushibara, Kodansha, ¥590)
FROM THE ENCYCLOPEDIA:
"The 'mushi' is neither a plant nor an animal; also, it isn't a microbe or fungus. They are more like primitive life forms. Their figures and existence are very vague. We don't notice their existence until we meet mushi and they show us mysterious phenomena. They do not exist to scare others; they just exist there as they are."
PROS:
Although the series is billed as supernatural, the rules governing mushi have a science-fiction rigor to them: biology is a science too, after all, and this is a fascinating re-imagining of nature's mysterious roots. The common thread through each ethereal tale is Ginko, a mushishi (mushi expert) who investigates the people affected by these creatures. Each character's story is a deep one, and soon enough you'll believe in mushi too. With textured lines and hazy tones, even the Japanese countryside becomes a character unto itself.
CONS:
If you were expecting some mystical creature-spirit-fighting action, this isn't it. While Urushibara's passion for nature shines through in her work, the subdued pace won't click with readers who prefer more energy. This passion for nature also gets too ambitious when some of the "mushi-ology"—like the sound/silence relationship between the Ah and Un—becomes confusing and ends up being glossed over to save the story. The artwork, meanwhile, suffers from beginner's inconsistency at the start but improves later on.
---
discuss this in the forum (23 posts)
|