×
remind me tomorrow
remind me next week
never remind me
Subscribe to the ANN Newsletter • Wake up every Sunday to a curated list of ANN's most interesting posts of the week.
read more
RIGHT TURN ONLY!!
The Manga Menagerie
by Carlo Santos,


Cherry trees are almost in bloom ... Japanese schoolkids are lining up for graduation ... this can mean only one thing: time to buy the new
Yotsuba&! 2007-2008 desk calendar
!
What about you, RTO readers? Do YOU keep an anime- or manga-themed calendar? Which series are you currently spending 365 days with? Do you like to change the theme each year as new favorites emerge, or is there one you find yourself buying year after year?
Now if only volumes of
Yotsuba&!
would actually come out as regularly as the calendar...
---
DEATH NOTE


Vol. 10
(by Tsugumi Ohba and Takeshi Obata, Viz Media, $7.99)
FROM THE BACK COVER:
"Light Yagami is an ace student with great prospects—and he's bored out of his mind. But all that changes when he finds the Death Note, a notebook dropped by a rogue Shinigami death god. Any human whose name is written in the notebook dies, and Light has vowed to use the power of the Death Note to rid the world of evil. But will Light's noble goal succeed, or will the Death Note turn him into the very thing he fights against?
With Near openly suspecting the new L of being Kira and sowing doubt in the hearts of the taskforce members, Light is once again forced to pass the Death Note on to another to take the heat off himself. But this time, Kira chooses a disciple from among his true believers. With no way to contact his successor directly, Light must rely on his faithful follower's adherence to Kira's goals. Will this newest move bring Light's ideal world closer to reality? Or will losing control of the Death Note spell Light's doom?"
EVIDENCE FOR:
If you should happen to pick up this volume off the shelf, you'll notice a band of black-edged pages in the middle of the book. Open up to that chapter,
and YOU
'll find one of the most beautiful, most chilling chapters in all of Death Note. In twenty haunting pages, it charts the life of Teru Mikami, a new character whose sense of "absolute justice" is so ruthless that he even starts to freak out Light! But he's not the only fresh blood at this stage in the series—there's a new woman in Light's life, a blast from his past who could be his salvation ... or his doom. Or maybe we should just be glad that Misa is fading out of the picture, as she was useless and annoying anyway. No matter what turn the story takes, though, these new characters are the best thing to happen to the series in a while. And of course, Obata's art is as expert as ever, with intense expressions and just enough brutal deaths to keep you on your toes.
EVIDENCE AGAINST:
These new characters don't actually come into play until about halfway through the volume, so you know what happens in the chapters prior to that? BORING STUFF. The cat-and-mouse game between Light, Near and Mello has become an unbelievable drag by this point, even more so than the earlier maneuvers involving L. Worse yet, this series that depends so heavily on thoughtful reasoning makes some very shady jumps in logic just to keep the plot moving forward. You won't believe some of the stuff coming out of Near's mouth—mostly because he doesn't have the proper evidence to confirm it. Action and slick visuals also go right out the window in this volume; sure, Obata can draw well, but he's seriously running out of opportunities—every page is so taken over by speech that it's a lucky day when he gets to draw something more than a face. Intense expressions are just about the
only
thing he can squeeze in anymore in this nightmare of tangled, tortuous text.
FINAL VERDICT:
New characters help to take things in a new direction after the lackluster first half, but factor in the sloppy storytelling and it's a
C+
.
---
INNOCENT BIRD


Vol. 1
(by Hirotaka Kisaragi, Blu, $9.99)
FROM THE BACK COVER:
"Part of the angelic bureaucracy, Karasu is sent to earth to retrieve a demon living among humans. However, he's surprised to discover that the demon Shirasagi wants to throw away his heritage and his powers and live as a human—and a holy human at that. As he works out of a bar in the city, Shirasagi teaches children and is generally an all-around wonderful person. But Heaven and Hell both want him back and it's going to be quite a battle..."
EVIDENCE FOR:
Heaven versus Hell! As classic as it gets. If hot, tortured man-love with a Judeo-Christian mythological edge is your thing, then pick up this series. Despite the epic setting, Innocent Bird is surprisingly good at boiling down the battle of good and evil into a simple, powerful character drama. Sure, there are agencies on both sides of the afterlife going at it, but the real draw is a wayward angel and do-good demon unexpectedly being drawn to each other. A sense of the magical and mystical comes alive in the dazzling special effects, which range from flurries of feathers (oh, those gorgeous wings!) to magical attacks filled with auras and explosions. It's a quick four chapters, but the unrelated side story that fills out the remaining pages has its charms as well, with a sparser sense of layout and a slice-of-life feel that cools things down after the busy, high-energy style of the main plot. Got to love the simple family life as a counterpoint to God at war with Satan.
EVIDENCE AGAINST:
This is like eating a meaty, greasy
BL
cheeseburger, and I don't mean that in a good way. It's a monotonous stack of angst, cheese, angst, cheese, as this angel and this demon continue to express their tortured, conflicted love to each other. Okay, we get it, can we move on now? It's good to have powerful character drama, yes, but there comes a point where you're just circling around the idea of angst and getting nowhere. In fact, the story is so fixated on establishing Karasu and Shirasagi's relationship that the greater scope of this mystical world becomes a missed opportunity. There's so much potential for expanding on the angel-demon wars, but most of it is just glossed over, with random hot guys showing up and discussing bureaucratic things that don't make sense. And here's another thing that doesn't make sense—the fight scenes. Most of them are just masses of speedlines and angry-looking spatters of blood that could be spouting from any character, because it's impossible to tell who struck whom. Beautiful-looking, perhaps, but completely unclear.
FINAL VERDICT:
Fluffity fluff fluff. Some emotional weight here and there, but with the relationships failing to develop further, it rates to a perfectly average
C
.
---
INUBAKA: CRAZY FOR DOGS


Vol. 1
(by Yukiya Sakuragi, Viz Media, $9.99)
FROM THE BACK COVER:
"All alone except for her loyal mutt Lupin, 18-year-old Suguri moves from the countryside to the big city to find a career and a new life. In her first job at a pet store, she meets an assortment of quirky dogs and even stranger owners!
On a walk to check out their new neighborhood, Lupin 'courts' another dog while her owner Teppei isn't looking, shattering his dream of a litter of purebred puppies. To make up for her mongrel's wayward wooing, Suguri offers to work at the pet store Teppei manages. Her adventures in canine antics have just begun!"
EVIDENCE FOR:
Get Ready?
for a whole new kind of
moe
, folks—this manga is filled with page after page of realistically drawn, tooth-rottingly cute dogs! Heck, I'm actually a cat person, and even I'm getting all mushy just thinking about those adorable little puppies that steal just about every scene in the book. I suppose the main (human) characters are all right as well; Suguri may seem like a ditz at first, but her well-meaning, positive attitude quickly becomes endearing, just like the natural eagerness that dogs possess. Still not convinced yet? Check out the later chapters that cover the "Ricky" story arc, about an aging golden retriever and his strained relationship with his owner. It's instantly more touching and heartwarming than most stories about human relationships, and a reminder of just how much pets can mean to us. Clean linework and straightforward layouts bring out the story with maximum impact; there's comedy early on, and serious drama in the back half, but every emotion is expressed clearly here.
EVIDENCE AGAINST:
It's easy to get a wrong impression of this series from reading the first chapter alone. The beginning of Suguri's adventures are inexplicably raunchy and
fanservice
-laden—poop jokes, dogs mating, and of course, panties on full display—what the hell, people? Is this what it takes to sell a debut chapter of manga these days? The nasty stuff is phased out by about Chapter 3 or so, which makes it even more bizarre that it was there in the first place. (Canine bodily functions still come up from time to time, but they're there as plot elements, not cheap jokes.) Meanwhile, the plot itself is pretty shallow, driven by the lightweight formula of a country girl learning to care for dogs. Even the Ricky story arc relies on a heavy dose of sentimentalism for it to work. If there's any forward movement in the plot, or character development, it's hard to see—after this volume, Suguri is still learning the ropes, and Teppei's roommate is still a freeloader. Is that all there is?
FINAL VERDICT:
Sure, it's not much in the story department, but there's enough heart (and puppies!) to earn it a
B
.
---
THE KUROSAGI CORPSE DELIVERY SERVICE


Vol. 2
(by Eiji Otsuka and Housui Yamazaki, Dark Horse, $10.95)
FROM THE BACK COVER:
"The Kurosagi Corpse Delivery Service has helped the dead who wanted justice from the living. Now, think of how many living people would like to take vengeance on the dead. What if it were possible? When Sasaki realizes that the latest corpse in their office is the man who murdered her parents years ago, the Kurosagi crew learns of a far darker business than their own, in this intensely disturbing one-volume story."
EVIDENCE FOR:
I gave the first volume of Kurosagi a hard time for being a collection of short supernatural stories (yeah, like there aren't ten billion manga series of
those
already—see below). So clearly, Eiji Otsuka has sought to redeem himself by supplying me with a self-contained one-volume arc. It's not just a longer story, but one with greater depth and impact, too. It starts out in a humble way, with the characters seemingly heading off in different directions—but each of these individual paths are masterfully woven into a greater, more complex plot that reveals itself over the coming chapters. More than just a mystery to be solved, the Kurosagi team's case turns out to be one of revenge, punishment and moral debate. If a murder victim's family gets to "kill the killer," what does it accomplish? You'll see soon enough, thanks to Housui Yamazaki's visceral artwork. He can creep you out by showing
exactly
what happens when people mess with the natural order of life and death—no fancy effects, no flashy lights or spirit powers, just terrifying acts from beyond the grave. Now THAT's a supernatural series.
EVIDENCE AGAINST:
The conclusion of this story is like losing at a game of Jenga: it keeps building, block after block, towards ever greater complexity ... and then collapses on itself and becomes a big hairy mess. See, the plot is so carefully woven that all the threads eventually end up in this tangle where everyone has to explain everything to everyone else because they're all seeing different sides of the same story. Confusing? Yes. Very. Not only that, but trying to balance the storylines between each Kurosagi member means that they all get shafted when it comes to character development. Just when you're getting into Karatsu (the baldie) ... whoops! Got to jump to Yata (the puppet kid)—oh wait—now it's flashback time—and so on with this
Endless Game
of plotline pinball. To be fair, we do get some good insights into Sasaki (the hacker), and that's because of her central role in the mystery. Apart from that, however, it's an over-ambitious balancing act that outstrips the creators' abilities. What a shame.
FINAL VERDICT:
This occult mystery would have been an absolute winner if it weren't for that botched ending ... so the best it can earn is a
B
.
---
TACTICS


Vol. 1
(by Kazuko Higashiyama and Sakura Kinoshita, Tokyopop, $9.99)
FROM THE BACK COVER:
"Meet Kantarou, a folklore scholar living in the Taisho period. Ever since he was a child, he has been able to see and talk to various spirits. But now that Kantarou's all grown up, he moonlights as an exorcist solving the problems of ghosts and demons ... all with the help of Haruka, the legendary demon-eating tengu!
Throw in some supernatural elements, a bit of Japanese mythology, and plenty of pretty boys ... and YOU guessed it—the manga that influenced the popular anime begins right here!"
EVIDENCE FOR:
"You've already bought it once—now buy it again from a publisher that can actually finish what it starts!" But seriously, this reissue of
Tactics
is worth it, with Tokyopop going out of their way to outdo the
ADV
edition. Look forward to a glossy color insert, cultural notes, and a script that does a much better job capturing the sharp repartee between Kantarou and friends (while also respecting traditional Japanese folklore terms by keeping them in Japanese). Youko calling Kan-chan an ass? YES. Each of the main characters has sarcasm to spare in this witty take on the folklore-fantasy genre. But it's not all about the comedy—the last story in this volume gets pretty deep, looking into the dangers of religious cults and the strength of a family bond. The artwork shows real skill, too; check out the traditional designs in Kantarou's robes and the creepy-cute look of the youkai (spirits and monsters) that populate the series. Oh, and I'm just going to say it because someone has to: Haruka is hot. That man—er, tengu—sure knows how to rock a Victorian suit.
EVIDENCE AGAINST:
Wipe up the drool and quit ogling the
bishounen
. Truth is, this series is awfully shallow, with a slightly gussied-up "youkai of the week" plot that takes Kantarou on various episodic adventures as he brings peace and happiness to various spirits. Even the last story, despite its serious themes, ultimately boils down to beating the bad guy at the end. How is this any different from all the other famous spirit mediums who go out there with arcane powers and step into the fight between good and evil? And even then, the fights are handled poorly, with action scenes cut way too short and done away with in a single page or panel. Come on, let's see Haruka's true power—not some abridged thunderclap version from an artist trying to hide behind certain weaknesses. In fact, there's one weakness that's in plain sight anyway: a poor sense of layout, with scenes and panels that fail to connect from one to the next. Lots of pretty pictures, but they just don't flow together all that well.
FINAL VERDICT:
Tactics starts out with some good ideas—spirit-hunting with a smirk, and an elegant sense of design—but until a stronger story is built on those ideas, it only comes out to a
C+
.
---

KING CITY


Vol. 1
(by Brandon Graham, Tokyopop, $9.99)
FROM THE BACK COVER:
"Joe is a young man with no home, no purpose, and almost no friends ... though he does have a very special cat. With a simple injection, Joe's cat can become anything: a weapon, a tool, or even a cuddly companion. But what, if anything, can transform Joe?
Critically acclaimed comics vet Brandon Graham has the answer as he welcomes you to King City—an outrageous, semi-futuristic city full of spy gangs, alien porn, and reasonably priced diners!"
EVIDENCE FOR:
King City is a triumph of the imagination, an ambitious work that pushes to the limits everything we know about modern urban life. In this cosmopolitan dystopia, reality seems infinitely malleable—whether it's Joe the "Cat Master" converting his handy-dandy feline into a firearm or parachute, or on the macro level, multiple characters pulled into multiple storylines with subtle overlaps. Distinctive backgrounds make this an unforgettable locale, like
Koji Morimoto
taking over the NYC Department of City Planning and willing the laws of architecture to bend to his vision. This unique vision also comes out in Graham's slick, striking layouts that carry a graphic designer's touch. Sharp humor is abundant as well, whether visually (one-shot sight gags, "activity book" pages) or verbally (staccato dialogue loaded with puns and double entendres). Think you can handle the wild pace of this city? Read it and find out.
EVIDENCE AGAINST:
This is what happens when "artistes" (yes, with the pretentious e) think they can just go out and create "art." It may be ambitious and imaginative, but it also leaves one lasting impression: What the hell is the story? This whole fandango of "multiple characters pulled into multiple storylines" is just a euphemism for plotlessness. Joe and his pals fart around all day long, doing random things that seem risky and glamorous, but never coming together into a proper narrative. And even if a story did exist, well, it'd be a hard sell trying to feel any sympathy for these loutish, hur-hur-swear-words-are-cool characters that embody everything that's annoying about the post-college indie-slacker mindset. (The gushy, fanboyish afterword just confirms that.) Stop trying to act hip—it's not working! Disjointed layouts also aid and abet this crime of hubris, with scenes that may be statically beautiful (hence the graphic designer's touch) but fail to flow as a story. It's artistic masturbation, is what it is.
FINAL VERDICT:
How disappointing that this meeting of exciting ideas quickly devolves into a self-indulgent mess. Brandon Graham, not making sense = you!
---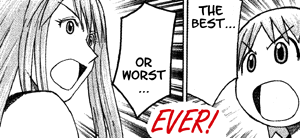 In the continuing search for manga on either end of the scale, here's another entry in the
Best Manga I've Ever Read
department. Once again, we visit the Library of Viz Titles That You Wouldn't Expect From Viz Because They Haven't Been Published For Years:
ADOLF


Vols. 1-5
(by Osamu Tezuka, Viz, $16.95 each)
It's been a few years since I read this one, so I can't recount the plot in great detail, but I still distinctly remember that feeling of
having my mind blown away.
The story of Adolf will do that to you. Actually, most Tezuka epics will do that to you—but Adolf is the one that sticks in my mind because it was the first Tezuka I ever read. The story starts out seemingly unconnected to the events of World War II—a Japanese reporter is out doing some typical investigative stuff, while a half-German half-Japanese boy plays with his Jewish friend—but history's most unforgettable war is just around the corner, right along with history's most horrific villain. What happens next is a white-knuckle roller-coaster ride, twirling and dodging and looping between plotlines like few thrillers have ever managed. Tezuka pulls you into each character's life, joining in with their joys and sorrows as they grow up, and when the heartbreak comes ... it comes HARD. People die in this series. People kill in this series. I used to think that World War II stories were musty, pedantic things, used by history and literature teachers to make students feel guilty about the past, but Adolf is so much more. Its characters are deeply fictional, but the setting is deeply real, and the overall effect is something that I will never forget. You know that old saw about history coming alive? In this manga, it does. It really, truly does.
---
discuss this in the forum (61 posts)
|