News

2nd Sumikko Gurashi Film Opens in Singapore on March 10

posted on by Rafael Antonio Pineda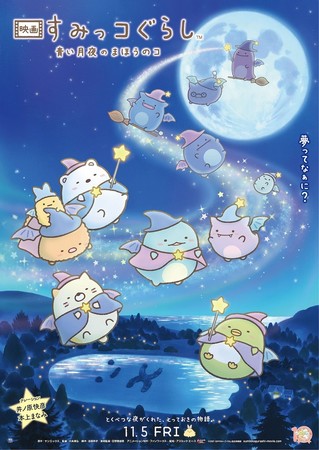 Encore Films announced on Sunday that its screening of the Sumikkogurashi: The Little Wizard in the Blue Moonlight (Eiga Sumikko Gurashi: Aoi Tsukiyo no Mahō no Ko) anime film in Singapore will open on March 10.
The film opened in Japan on November 5, and sold about 200,000 tickets to earn about 250 million yen (about US$2.22 million) in its first three days. The film has so far earned a cumulative total of 1,181,926,990 yen (about US$10.18 million) as of January 2, and has sold 1,008,057 tickets as of January 9.
Takahiro Ōmori (Durarara!!, Natsume's Book of Friends, Princess Jellyfish) directed the film. Reiko Yoshida (Violet Evergarden, Lu over the wall, K-ON!) penned the script, and Kaori Hino (Modest Heroes, Napping Princess) returned from the first film as the art director. Fanworks returned to animate the film, and ASMIK Ace is distributing.
In the film's story, the main characters go on a camping trip one day in the fall, and that night they recall a legend: that once every five years, on the night of a large and blue full moon, magical creatures will visit the town. The characters look up, only to see a large and blue moon overhead.
---