Most Read Interest Articles of 2014
by Bamboo Dong,

2014 was an exciting year for the ANN Interest team. It was the first full year where we tried to separate "news" and "interest," with the former covering the more serious aspects of news—new series, cast announcements, new trailers and promo art, and basically anything that was just straight information (here are the top news articles of 2014). "Interest," we decided, allowed a little more flexibility. We wanted a place where we could feature not only information about cool new merchandise, or events, or comments from creators, but also stuff that was a little more off-beat, like videos of fire-spinning cosplayers or articles about live-action Taiwanese adaptations of shoujo manga. Ultimately, it was a fun year for everyone on the team, and we couldn't have done it without the support and feedback from our readers. As always, thank you very, very much.

The following list you're about to see is compiled purely based on page views spanning the entirety of 2014, and does not reflect the personal opinions of anyone at ANN, nor the perceived importance of the articles or subject matters. Articles marked with an asterisk (*) were posted in 2013, but were mostly read in 2014.

Before we get there, here's a quick recap of the Top 10, compiled by their representative cover or article images. Can you guess what they were?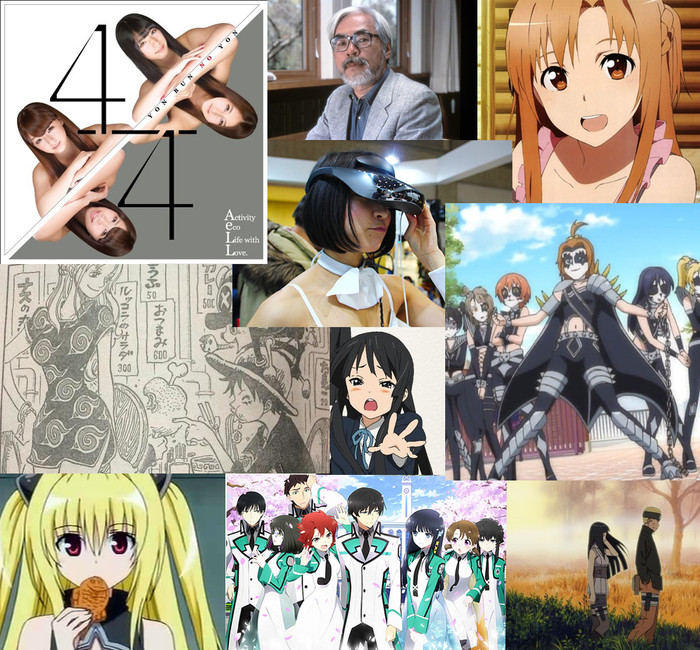 Our number one most-read article was about a publicity stunt for the girl group AeLL, which offered special dates to their most dedicated fans. Those who purchased 30 copies of the album could try some home-cooking from one of the members, while those who purchased 50 copies could join in on a one-hour karaoke session. Fans with wallets deep enough to purchase 100 copies would be able to go on a supervised date with one of the members, a privilege that cost around 280,000 yen, or $2756 with May 2014 exchange rates.
One trend that we noticed was that readers loved talking about their favorite new series (no surprise there!), which was reflected in the discussion for many of the "Most Anticipated" and "Best of [Season]" Japanese poll results—and their favorite characters, often sorted by hair color or personality type.
Soccer fans got a kick out of Samurai Blue's collaboration with Pikachu and AKB48, while commentary and artwork from industry titans also proved popular. Fans were also bummed to see the ending of the Naruto manga, which is reflected in both the Interest list, as well as the News list.
This year, there were also quite a few popular articles about Attack on Titan, which hasn't changed much since last year, whose top 10 list featured two articles about Attack on Titan, and two articles about Pokemon (there was only one this year).
Incidentally, both years' lists feature the same article recounting poll results of the male or female characters fans would most like to date.
What were some of your most memorable anime moments from 2014, whether it was a particular news story, a new toy, or a scene you just can't get out of your head? Let us know in the forums!
---