Interest

New Atelier Rorona Remake Heads to PS3, PS Vita in November

posted on

2013-08-06

22:30 EDT by Egan Loo
Updated 3D modeling, extended time in battles, item cultivation, time capsule more
---
This week's issue of Dengeki PlayStation magazine is announcing Shin Rorona no Atelier: Hajimari no Monogatari: Arland no Renkinjutsushi (New Atelier Rorona: Origin Story: The Alchemist of Arland), a new remake of Gust's Atelier Rorona: The Alchemist of Arland role-playing game for PlayStation 3 and PS Vita. The November remake will render Mel Kishida's designs more faithfully with updated 3D CG character modeling by Techmo Koei Games.
The remake will also add new events, extended time feature in battles, item cultivation, time capsule, playable characters, and costumes. Players can cultivate a garden outside their Atelier and place items in a time capsule, which will alter the items as it carries them through time and space. Since the remake's system is based on the one in this year's Atelier Meruru Plus port, it will support costume changes — even one into "that character!?" Finally, it will implement Cross-Save support and more trophies.
The first copies of the game will come with swimsuit costume DLC. The limited PlayStation 3 edition will bundle a crystal paperweight and controller stickers, while the limited PS Vita version will bundle a mini crystal paperweight and skin stickers.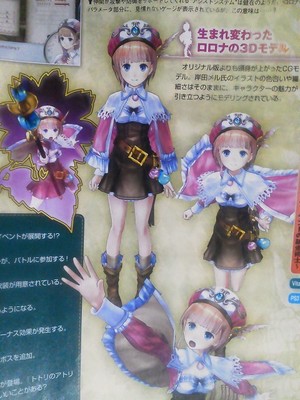 Gust producer Keisuke Kikuchi had said in March that his company was not content to simply do a "Plus" port of Atelier Rorona as it did for the other games in the Arland series. He explained that Atelier Rorona need more of a revamp to justify a new release.
[Via Re:Tawagoto]
---