Interest

Naruto/Dragon Ball/Toriko Rivals, Transformations in J-Stars Victory Vs. Game

posted on by Egan Loo
Sasuke, Vegeta, Zebra, Majin Yūsuke, Super Saiyan, Hollow confirmed in
Shonen Jump
crossover PS3/Vita game
---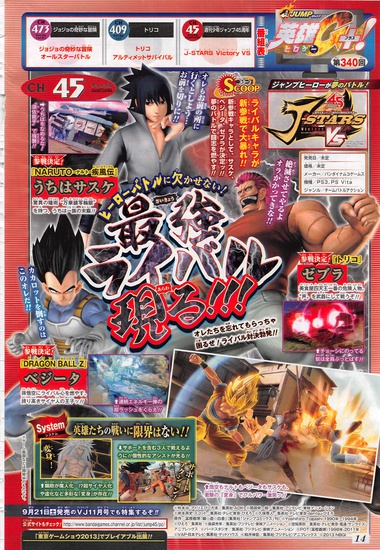 This year's 40th issue of Weekly Shonen Jump magazine is announcing on Monday that the rival characters Sasuke (Naruto Shippūden), Vegeta (Dragon Ball), and Zebra (Toriko) are joining the J-Stars Victory Vs. "team battle action" video game's roster. The magazine also confirms that certain characters have transformations, such as Majin for Yu Yu Hakusho's Yūsuke Urameshi, Super Saiyan for Dragon Ball characters, and Hollow for Bleach characters.
Previously announced characters include Toriko (Toriko), Luffy (One Piece), Goku (Dragonball Z), Naruto's title character, Rurouni Kenshin's Kenshin Himura, Gintama's Gintoki Sakata, Kochira Katsushika-ku Kamearikouen-mae Hashutsujo's Kankichi Ryotsu, Hunter x Hunter's Gon Freecss, and Yu Yu Hakusho's Yūsuke Urameshi. Fans could also vote for some of the characters that will be featured in the game.
The 3D fighting game will allow players to use Naruto's "Shadow Clone," Luffy's "Gum Gum Stamp," Toriko's "Nail Punch," Goku's "Kamehameha", Yūsuke's "Spirit Gun", Gon's "Janken Gū", and other famous moves from Jump characters.
Namco Bandai Games is launching the "ultimate Jump game" on the PlayStation 3 and PlayStation Vita systems.
---