Interest

Google Japan Doodle Honors Architect Kenzo Tange

posted on

2013-09-03

19:19 EDT by Bamboo Dong
Famed architect's birthday celebrated with a Google Doodle.
---

In honor of famed Japanese architect Kenzo Tange's 100th birthday (born September 4, 1913), Google Japan's latest logo is drawn in celebration of the man and his accomplishments. It shows Tange alongside a model of one of his most well-known structures, the Yoyogi National Gymnasium in Tokyo. Built between 1961 and 1964 to host the swimming and diving events for the 1964 Summer Olympics, it's since also hosted plenty of pop culture events—pop star Ayumi Hamasaki has used the site for her annual New Year's Countdown concerts every year in 2000, and it's also hosted concerts by bands from L'Arc~en~Ciel, to VAMPS, to Korean pop group Girl's Generation.
Amongst his many national and international accomplishments (including the 1987 Pritzker Prize), Tange designed some of Japan's most iconic buildings, including the Hiroshima Peace Memorial Museum, St. Mary's Cathedral in Tokyo, and the Tokyo Metropolitan Government Building.
It's not surprising, then, that many of his structures have graced the cels and pages of anime and manga, serving as instantly recognizable landmarks. The Tokyo Metropolitan Government Building, for instance, has served a wide variety of fictional functions, from the headquarters of the Hypnos organization in Digimon Tamers, to the headquarters of the Dragons of Earth in Clamp's X.
Also recognizable to some anime fans may be the Fuji Television Building in Odaiba, also designed by Tange, which has not only been featured in series like Digimon, but is the recent home of the broadcaster. (One Piece fans take note, the rooftop garden on the 7th floor of this building includes a One Piece-themed restaurant, BARATIE.)
So three cheers to Mr. Tange for his iconic structures, and happy birthday.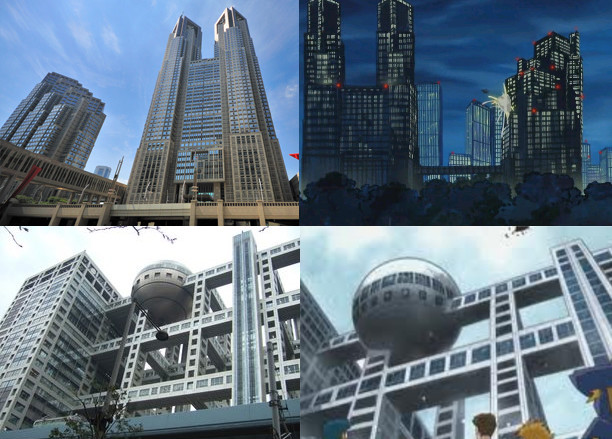 Digimon & Digimon Tamers ©Toei Animation
---