News

Satoshi Kon to Appear at Free NYC Paprika Showing

posted on

2008-06-26

05:16 EDT
Director to discuss acclaimed surreal film before Monday showing
---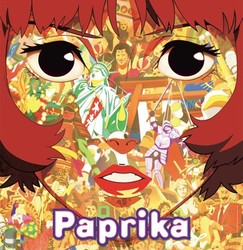 Director Satoshi Kon will appear at a free screening of his acclaimed Paprika film at The ImaginAsian theater in New York City on Monday. Kon will discuss the film in a 7:00 p.m. talk before the actual screening. New York-Tokyo and All-Nippon Airways are presenting this English-subtitled showing, and RSVP is required for attendance.
The surreal film is based on Yasutaka Tsutsui's original novel of the same name. The story takes place in the near future when a device named the DC Mini allows psychologists to enter people's dreams. However, a prototype is stolen, and so Dr. Atsuko Chiba must enter the dream world as her free-spirited Paprika alter-ego to track down the culprit.
New York City's Film Society of Lincoln Center will be also screening four of Kon's films between June 27 and July 1. The film society is hosting a separate appearance by the director after a paid-admission showing of Paprika on June 27.
Image © Madhouse
---
Director Masaki Tachibana answered questions about his surprise hit anime series at this year's inaugural Anime NYC. Rachel Kelly has the details from this special screening and Q&A sessions!
― Princess Principal is an anime about cute girls being spies in a fictional, steampunk version of Victorian London, an original project that came seemingly out of nowhere. While it wasn't highly anticipated goi...
This surprisingly dark shoujo romance wraps its themes of colonialism around a "Little Red Riding Hood" tale. Rebecca Silverman untangles its heavy yet rewarding story.
― Well, hey there, Little Red Riding Hood! Aarne-Thompson tale type 333, the story best known as "Little Red Riding Hood" in English, has been one of anime and manga's go-to fairy tales for inspiration, and Spica Aoki's Beasts of Abig...
URAHARA is about as cute, unassuming, and completely under-the-radar as you can get. This week in anime, we dig in to see if we've been sitting on something special.
― URAHARA is about as cute, unassuming, and completely under-the-radar as you can get. This week in anime, Michelle and Jacob dig in to see if they've been sitting on a hidden gem this season. Disclaimer: The views and opinions expressed...
Looking for the perfect way to express your otaku side no matter where you go? Our guide to the best anime fashion and accessories of the season will get you there!
―
Who among us can resist the siren song of the kitchen after watching a bunch of Food Wars?
―
The first arc of Sword Oratoria that provided the season finale for its anime adaptation comes to a close. Theron Martin compares these two versions for any juicy details that may have gotten left out.
― Despite leaving out a few details here and there, the DanMachi anime series was largely a faithful and excellent adaptation of the source novels. The anime version of Sword Oratoria was a far less im...
Jacob and Zac chew on Justice League for a while before digging in to your Twitter questions - Evangelion, Kino's Journey, Ancient Magus Bride and a whole lot more!
― ANNCast Episode 311 - New Dominion Thank Police Jacob and Zac chew on Justice League for a while before digging in to your Twitter questions - Evangelion, Kino's Journey, Ancient Magus Bride and a whole lot more! You can listen to the ...
Our 2017 Holiday Gift Guide begins with an enormous gilded mountain of 2017's biggest and brightest DVD and bluray anime releases!
―
What's the difference between letterboxing and pillarboxing? And what are those tiny black borders you see on some old anime that don't have any of that? Justin Sevakis explains.
― Duc asked: Every once in a while, especially when I'm watching an older movie on Blu-ray, I'll see a thin border around the picture. Why is that there? Also, can you explain the difference between pillarboxing and letterb...
Our correspondent saw the live-action Fullmetal Alchemist movie during its world premiere at Anime NYC this weekend - here's her full report, plus comments from the director!
― The live-action Fullmetal Alchemist movie, directed by Fumihiko Sori, made its world premiere at the Tokyo International Film Festival on October 25 and will open in Japan on December 1. Luckily for us, the movie made a specia...
Gabriella revisits the anime adaptation of this hit JRPG to see if it's worth watching on its own merits, while Paul runs down all this week's new releases along with a new king-sized Shelf Obsessed!
― Since in-game purchases seem to be a hot topic in the video game world these days, I figured I'd offer up a potentially obvious piece of advice as someone who's bought and collected all kinds of junk ...
Erina's evolution comes to a head as Soma battles Tsukasa in this exciting volume. Rebecca Silverman has the details.
― Ever since Erina's father Azami Nakiri returned to Totsuki in an orchestrated semi-hostile takeover, the school has been in an uproar. Not only is he trying to remake Japan's culinary world in his own image, but he's also dedicated himself to stamping out what he sees as unnecessary...
The complete manga that inspired the award-winning film is finally available in English. Rose Bridges compares this edition to its adaptation and as a work of historical fiction on its own.
― When I saw the film version of In This Corner of the World at Otakon this year, I was impressed and thrilled, but also struck by its odd plot structure. Nearly all of the film's driving narrative is in the third...
All of the news headlines from this weekend's Anime NYC event in New York City, plus our cosplay galleries and plenty of photos from around the convention floor!
― November 17-19, 2017, New York City Cosplay Galleries Cosplay Gallery Day I Cosplay Gallery Day II Photos From Around The Convention Floor Day One Headlines Viz Media Licenses Mazinger Z Infinity Film Viz Media Licenses That Blue Sky Feel...