×
remind me tomorrow
remind me next week
never remind me
Subscribe to the ANN Newsletter • Wake up every Sunday to a curated list of ANN's most interesting posts of the week.
read more
News

N. America's 2007 Anime Market Pegged at US$2.8 Billion (Update 3)

posted on by Egan Loo
Characters goods made up US$2.5 billion, compared to DVDs' US$316 million
---


The Japan External Trade Organization (JETRO), a group affiliated with the Japanese government, reports in its March 30 "State of the Content Market in North America 2008-2009" white paper that the anime-related market in the region was worth US$2.829 billion (about 280 billion yen) in 2007. Wowmax Media used statistics from Nielsen VideoScan, NPD, and other sources in compiling this report for JETRO.
The anime-related market in North America was reportedly at its largest in 2003, when it stood at US$4.84 billion. The 2007 figure was over 40% smaller. Of that US$2.829 billion in 2007, character goods made up US$2.512 billion, while DVDs accounted for US$316 million. By contrast, the character goods market increased from 2006's US$2.41 billion to 2007's US$2.512 billion. The market for packaged videos and DVDs peaked in 2002, when it rose to US$415 million.
Source: animeanime.jp
Update: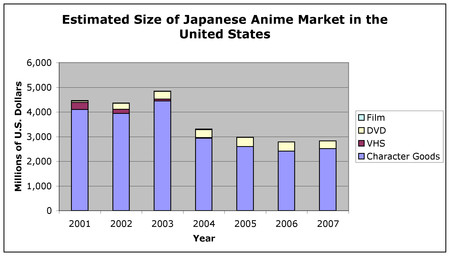 Update 2:
Year
Product Category
2001
2002
2003
2004
2005
2006
2007
Source
Character Goods
4,100
3,937
4,450
2,940
2,600
2,410
2,512
Each company's annual reports and financial data
VHS
288
172
72
20
3
1
-
Nielsen VideoScan
DVD
56
243
316
326
368
374
316
Nielsen VideoScan
Film
17
8
2
21
5
0
1
BoxOfficeMojo.com
Total
4,461
4,360
4,840
3,307
2,976
2,785
2,829
* In millions of U.S. dollars
Update 3:
30 Bestselling Japanese Anime DVD Titles in the United States in 2006
* Ratio of sales compared to the sales of the #1 title as 100
Source: Nielsen VideoScan via Wowmax Media
Update 4:
30 Bestselling Japanese Anime DVD Titles in the United States in 2007
| Rank | Title | Distributor | Retail Price | Sales Ratio* |
| --- | --- | --- | --- | --- |
| 1 | Robotech Protoculture Collection | ADV Films | 129.98 | 100 |
| 2 | Dragon Ball Z: Vegata Sega Season 1 | Navarre Corporation | 49.98 | 100 |
| 3 | Dragon Ball Z: Season 2 | Navarre Corporation | 49.98 | 59 |
| 4 | Dragon Ball Z: Season 3 | Navarre Corporation | 49.98 | 59 |
| 5 | Howl's Moving Castle | Disney/Buena Vista Home Video | 29.99 | 49 |
| 6 | Pokémon: Lucario and the Mystery of Mew | Viz Media | 19.98 | 48 |
| 7 | Afro Samurai Director's Cut | Navarre Corporation | 39.98 | 45 |
| 8 | Pokémon Ranger and the Temple | Viz Media | 19.98 | 41 |
| 9 | Robotech: The Shadow Chronicles | ADV Films | 29.98 | 40 |
| 10 | Final Fantasy VII: Advent Children Limited Edition | Sony Pictures Entertainment | 49.95 | 40 |
| 11 | Pokémon 10th Anniverasary - Slim | Viz Media | 39.98 | 38 |
| 12 | Evangelion Platinium Complete Collection | ADV Films | 89.98 | 32 |
| 13 | Spirited Away | Disney/Buena Vista Home Video | 29.99 | 32 |
| 14 | Afro Samurai Director's Cut | Navarre Corporation | 19.98 | 31 |
| 15 | Elfen Lied Diclonus Report Complete | ADV Films | 49.98 | 31 |
| 16 | Naruto Vol. 3 Uncut Box Set | Viz Media | 49.98 | 30 |
| 17 | Final Fantasy VII: Advent Children | Sony Pictures Entertainment | 19.94 | 30 |
| 18 | Naruto: Ninja Clash in the Snow | Viz Media | 24.98 | 27 |
| 19 | Dragon Ball Z: Broly Triple Threat 3-Pack | Navarre Corporation | 29.98 | 25 |
| 20 | Naruto Vol. 4 Uncut Box Set | Viz Media | 49.98 | 24 |
| 21 | Hellsing Complete Collection | Geneon | 59.98 | 24 |
| 22 | Naruto Vol. 1 Uncut Box Set | Viz Media | 34.98 | 23 |
| 23 | Fullmetal Alchemist: The Movie - Conqueror of Shamballa Limited Edition | Navarre Corporation | 44.98 | 23 |
| 24 | My Neighbor Totoro | Disney/Buena Vista Home Video | 29.99 | 22 |
| 25 | Outlaw Star Complete Collection | Bandai | 49.98 | 22 |
| 26 | Fullmetal Alchemist: The Movie - Conqueror of Shamballa | Navarre Corporation | 29.98 | 22 |
| 27 | Princess Mononoke | Disney/Buena Vista Home Video | 22.99 | 20 |
| 28 | Naruto Vol. 2 Uncut Box Set | Viz Media | 34.98 | 20 |
| 29 | Hellsing Ultimate Vol. 2 Limited Edition | Geneon | 49.98 | 19 |
| 30 | Escaflowne Anime Legends Complete Collection | Bandai | 49.98 | 19 |
* Ratio of sales compared to the sales of the #1 title as 100
Source: Nielsen VideoScan via Wowmax Media
---
This article has a follow-up:
America's 2009 Anime Market Pegged at US$2.741 Billion
(2011-04-15 08:00)