News

18-Meter Life-Size Gundam's Videos, Night Shots Posted

posted on

2009-06-13

17:17 EDT by Egan Loo
Statue to be officially on display for two months starting on July 11
---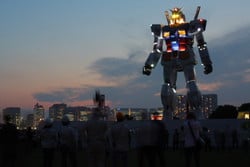 Not-So-Daily Links of the Day: Visitors have posted multiple videos of the 18-meter-tall (59-foot-tall), "life-size" statue of the Gundam anime robot that is being completed at Tokyo's artificial Odaiba island. In addition, the Pink Tentacle blog has posted photographs of how the statue looks at night with many of its 50 lights on and its head unit in motion. The statue marks the 30th anniversary of the first anime series in the Mobile Suit Gundam space war anime franchise.
The statue will be officially on display for two months starting on July 11. It is built with fiberglass-reinforced plastic over a steel frame so it can be disassembled later. In addition to the 50 lights and moving head unit, the statue will feature mist-emitting devices on 14 points on the body.
Source: Danny Choo
---
This article has a follow-up:
Life-Size Gundam Statue's Special Effects on Video
(2009-06-14 12:33)
discuss this in the forum (39 posts)
|
bookmark/share with:
RightStuf - Anime, Manga and More
This slightly more creepy-crawly take on isekai reincarnation doesn't break from formula too much, but it does everything refreshingly better than its many peers in the genre. Theron Martin has the details.
― The field of isekai reincarnation novel series is so dense and thickly populated with weird options that even a catchy title and premise might not hold reader attention for long; a series has to...
In Tokyo, Haruka reunites with Ikuya, a young man who swam alongside him in relays in middle school. Haruka's memories of middle school begin to resurface; he remembers Ikuya from "that moment" extremely clearly...
― Free! -Dive to the Future- Official Website: http://df.iwatobi-sc.com/ Introduction Characters Cast & Staff Gallery Premieres in July 2018 Key Staff Director: Eisaku Kawanami Series Com...
When it comes to fan works - cosplay, fanart, fan films and games - copyright seems to be only enforced arbitrarily. Why is that - and which fan works are less likely to get the hook? Justin gets into it.
― James asked: I have noticed that most companies tolerate fanart, fanfiction, and cosplay of their works, but not fan-films or fan-made video games, which seems very arbitrary and random, to me. W...
James delves into a divisive CG sci fi thriller from last spring while Paul breaks down all this week's new anime releases!
― I've officially hit the point in every anime season where I look at my streaming queue and think, "Aw, crap." Apart from the two shows I'm covering for streaming reviews, I'm weeks and weeks behind on everything. I sense a late-night marathon in my immediate future. Welcome t...
The first two thirds of this fantasy road trip are humble yet satisfying. Rebecca Silverman explores the attractive art and charming idiosyncrasies of the dragonewt kingdoms.
― Everything eventually cycles back around. That's part of the philosophy behind the world building of Kiyohisa Tanaka's debut manga series, Juana and the Dragonewt's Seven Kingdoms: first there were dinosaurs, then there were h...
This special sunday edition of This Week in Games collects E3's most exciting game announcements, plus the rest of this week's gaming news. If you feel like you missed anything at E3, catch up here!
― And we're back with the second part of our E3 news extravaganza! Except that, as I write this, the internet is losing its mind over something totally unrelated to E3: a tease by Studio Trigger that it's...
"This one felt a little more scattershot than the previous two, and they're still repeating themes that have been fully clarified at this point, but I'm still dying to know where all this is going."
This steampunk adventure novel explores the stigmatization of illness in refreshing and engaging ways. Rebecca Silverman explores how.
― Despite having some of the trappings of a standard reverse harem school story, Mia and the Forbidden Medicine Report is much more of a science drama than a romance. The story takes place in a vaguely early 20th century steampunk setting, where country girl Mia Bauma...
Introducing anime to newbies can be a weird experience, especially if that newbie is your own dad! Here are some pops-friendly anime options just in time for Father's Day!
― I just got back from camping out in the woods (okay it was a state park) and roughing it old school (in a cabin) but while much of America is barbecuing with their folks, it's the perfect opportunity to turn on one of these show...
This relatable romance story focuses on personal transformation as much as first love. Rebecca Silverman has the details.
― If there's a time in your life tailor-made for trying to hide in plain sight, it's middle and high school. Chitose learned that lesson a little earlier than most of her classmates, however: her parents run a fusion restaurant with Indian themes, and Chitose was picked on for com...
FIRST! Zac and Jacob return to the maddening world of DARLING in the FRANXX , PLUS FLCL2! THEN: Dave and Graziella from Friends from the Internet are back for 90 minutes of our E3 Game Show! It's all videogames! C'mon in!
― ANNCast Episode 330 - Giant-Size Double Feature ANNCast FIRST! Zac and Jacob return to the maddening world of Darling in the Franxx, PLUS FLCL2! THEN: Dave and Graziella from Fri...
Now that the 2018 summer convention season is in full swing, fans will soon have the chance to meet manga and light novel authors and artists from Japan! Here are some friendly tips for how to interact with your favorite creator.
― Now that the 2018 summer anime and comic convention season is in full swing, North American fans are in for a treat – the chance to meet some manga and light novel author...
To celebrate the shojo classic's 20th anniversary, Utena got its very own musical this past March, supervised by Kunihiko Ikuhara! Superfans Giovanna and Yasha break down the best of this stage show's spectacle and how you can still see it for yourself.
― When we initially went to see Revolutionary Girl Utena: Bud of the White Rose, the new musical that played in Japan for ten days, it was sort of an...