News

1/1-Scale 'Life-Size' Gundam to Rise Again at Shizuoka

posted on by Egan Loo
18-meter-tall robot to be relocated to home of Bandai's plastic model factory
---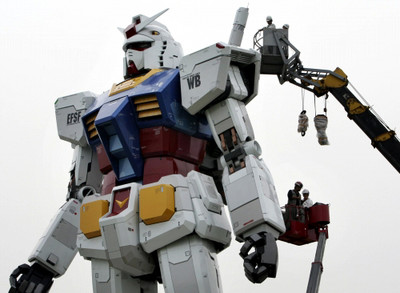 The Sankei Sports newspaper reports that the 1/1-scale, 18-meter-tall statue of the Gundam robot, which was built to mark the 30th anniversary of the Gundam anime franchise, is being relocated to Shizuoka City in central Japan next July. According to the newspaper's source, the 59-foot-tall statue is being moved in front of Japan Railway's Higashi-Shizuoka Station in Shizuoka's Aoki ward. The city plans to officially announce the relocation with Bandai Namco Holdings, the parent company of Gundam's anime studio Sunrise, at the beginning of the new year.
Not coincidentally, the Bandai Hobby Center, the production factory for Bandai's Gundam plastic model kits, is located in Shizuoka. (Many other model kit manufacturers, such as Tamiya, are also located in this city.) The statue will remain on display at Higashi-Shizuoka from July of 2010 to May of 2011, and then be moved to another prefecture. It will eventually be erected near the Bandai Hobby Center.
The statue was disassembled in September after being on display for two months at Shiokaze Park on the artificial island of Odaiba in Tokyo Bay. Gundam creator Yoshiyuki Tomino and the main character Amuro Ray's voice actor Tohru Furuya participated in the opening ceremony at Odaiba on July 10. Altogether, 4.15 million visitors came to see the statue; the planners had only anticipated 1.5 million over its two months at Odaiba. On August 23 alone, a record 185,000 visitors came. At the time of the disassembly, the planners said that the fate of the statue after August 31 was "undetermined."
The 35-ton statue was built with fiberglass-reinforced plastic over a steel frame so it can be disassembled later. It features 50 lights, 14 mist-emitting devices, sound effects, and a moving head unit. A different 1/1-scale RX-78-2 Gundam bust (from the chest up) is already on display at the Omochanomachi Bandai Museum in Tochigi Prefecture.
Update: More background information added.
---