News

Shizuoka City: Gundam Statue to Bring in 40 Billion Yen

posted on by Egan Loo
900,000 predicted to visit 59-foot-tall robot in central Japan in 300 days
---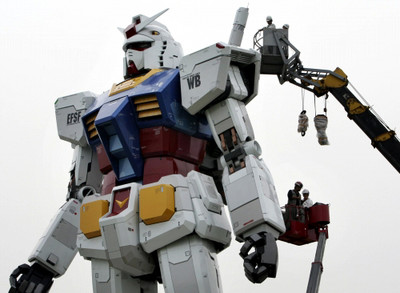 Not-So-Daily Link of the Day: The central Japanese city of Shizuoka calculates that the 1/1-scale, 18-meter-tall statue of the Gundam robot will bring 40 billion yen (US$440 million) into the local economy.
The 59-foot-tall statue will be erected in front of Japan Railway's Higashi-Shizuoka Station in Shizuoka's Aoki ward by July. As part of the 30th anniversary of the Gundam anime franchise, the statue stood on the artificial island of Odaiba in Tokyo Bay last summer and attracted 4.15 million visitors. The planners had only predicted 1.5 million visitors before the statue was built.
The duration of the statue's stay in Shizuoka is still to be determined, but the city estimates that the statue can attract 900,000 visitors and 40 billion yen over the course of 300 days. According to the city, 9,600 jobs will be created for security, maintenance, and other operations at the site. More details about the exhibit's duration and related events will be announced at the end of March.
After the statue's initial stay in Shizuoka, there are plans to move it to another prefecture. However, it is slated to be eventually stationed near Shizuoka's Bandai Hobby Center, the production factory for Bandai's Gundam plastic model kits.
Source: Yomiuri Shimbun
---