News

Gundam Museum Proposed in Nagoya City Council

posted on by Egan Loo
Central Japanese city to study proposals to host museum & "life-size"
Gundam
---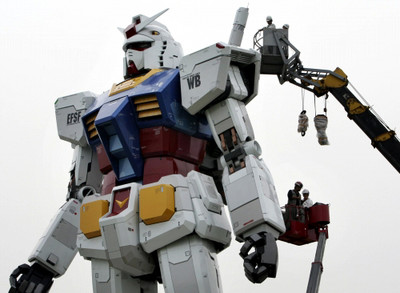 Not-So-Daily Link of the Day: Nagoya City Council Member Toshiyuki Ogawa proposed during a Friday council meeting that a Gundam Museum be built in this central Japanese city. He also proposed that the city should host the 1/1-scale "life-size" Gundam statue that made headlines in Tokyo's Odaiba Island last summer.
Ogawa made these proposals as a way to ensure the viability of the city's Aonami train line and guideway bus system amid ongoing financial difficulties. Under the proposals, the Gundam Museum would be built at the city's planned "Manufacturing Cultural Exchange Area," while the 1/1-scale Gundam statue would be erected at the city's Shidami Science Park; these two areas are served by the Aonami line and guideway bus system. City officials characterized the proposals as not necessarily unrealistic, and they said they would investigate who owns the rights, with whom to negotiate, and other preliminary details.
The Japanese conglomerate Bandai already opened a Gundam Museum within a larger Bandai Museum in Matsudo, a city just east of Tokyo, in 2003. However, Bandai sold the museum's building in 2006, and the Bandai Museum moved to Mibu, a town in Tochigi Prefecture north of Tokyo. Mibu's relocated Omochanomachi Bandai Museum no longer has a Gundam Museum section. However Mibu's museum still houses a 1/1-scale RX-78-2 Gundam bust (from the chest up) from the original museum.
A more famous, full-length statue was built at Tokyo's Odaiba Island to mark the 30th anniversary of the Gundam anime franchise last year. After 4.15 million people visited the 18-meter-tall (about 59-foot-tall) statue in two months, Bandai disassembled the statue and eventually decided to move it to Shizuoka City in central Japan this summer. (Shizuoka is the home of Bandai's main production factory for Gundam model kits.) However, even before the statue arrives at Shizuoka, plans had already being considered to move the statue to yet another city after next year.
Nagoya has been a major manufacturing hub of Japan for generations. It has since been the home of the World Cosplay Summit, an annual event sponsored by the local TV Aichi station.
Source: Chunichi Shimbun
---