News

Tsuru Rock Band Makes Animated Afro Tanaka Music Video

posted on by Egan Loo
---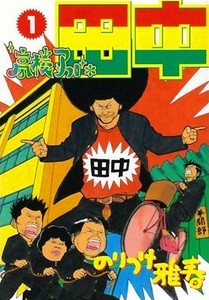 The Japanese three-man rock band Tsuru (GeGeGE no Kitarō, Cross Game) is collaborating with Afro Tanaka comedy manga creator Masaharu Noritsuke on a CD single and an animated music video this summer. The artists are forming a new unit called "Tsuru to Sasurai Afro Tanaka" (Tsuru and Wandering Afro Tanaka), which is named after the next Afro Tanaka manga series.
Noritsuke launched his gag comedy manga franchise in Shogakukan's Weekly Big Comic Spirits magazine with Kōkō Afro Tanaka (High School Afro Tanaka) in 2002. The story follows the misadventures of an odd Afro-haired boy named Hiroshi Tanaka who just moved to a new school. The creator ended the series in 2004, but he then created a 2004-2007 sequel called Chūtai Afro Tanaka (Dropout Afro Tanaka) about Tanaka's life after leaving high school. From 2007 to just this past March, Noritsuke drew Jōkyō Afro Tanaka (Tokyo-Bound Afro Tanaka) about Tanaka's move to Tokyo. The next series, Sasurai Afro Tanaka, will launch in this year's 26th issue of Weekly Big Comic Spirits next month.

"Tsuru to Sasurai Afro Tanaka" will release the "Asa ga Kuru mae ni ~Sasurai Version~" single on June 30. According to the Comic Natalie news source, Tsuru band members are big fans of Afro Tanaka and have collected all of the manga volumes. Tsuru wanted to create a party tune that reflects Tanaka's feelings as a man inexperienced in love. The limited first edition of the single will bundle the official afro-hair wig and ribbon. The music video currently in production will be the first anime adaptation of Sasurai Afro Tanaka.
---