News

Fans Vote on What to Put in Kamisama Dolls Video Extras

posted on

2011-07-06

05:30 EDT by Egan Loo
Top 3 winning ideas to be made as 1-minute videos for final BD/DVD volumes
---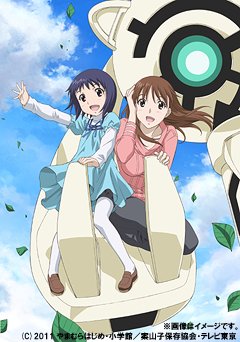 The official Japanese website for the Kamisama Dolls television anime series is letting fans vote on which character and scene should be made into the all-new video extras on the Kamisama Dolls Blu-ray Disc and DVD volumes. The top three winning ideas will be produced as one-minute extras for the fourth, fifth, and sixth Blu-ray/DVD volumes.
The vote has already begun for the fourth volume, and it will end on July 31. Fans can choose one character in one outfit doing one activity. As of Wednesday, the top choice is Hibino Shiba bathing in the sea in gym clothes (281 votes).
The voting for the fifth volume's extra will end on August 31, and the voting for the sixth volume's extra will end on September 30. The fourth, fifth, and sixth Blu-ray/DVD volumes will ship in Japan on December 21, January 25, and February 22, respectively.
The first three volumes will come with an "Utao to Date" (Date with Utao) extra, a "Hibino Training in a Swimsuit" extra, and a tentatively titled "Mahiru" extra. Crunchyroll is streaming the anime outside Japan as it airs.
Hajime Yamamura's original supernatural action manga centers around Kyōhei (Nobuhiko Okamoto), a college student who grew up in a village that deified figureheads named kakashi as gods. Kyōhei abandoned his hometown when he moved to Tokyo and immersed himself in college life. However, he learns from his younger sister Utao (Misato Fukuen) that a fugitive named Aki (Ryohei Kimura) from his hometown has also arrived in Tokyo (with his kakashi in tow) and is responsible for a horrific crime that Kyōhei had just witnessed.
[Via Yaraon!]
Image © 2011 Hajime Yamamura, Shogakukan/Kakakshi Hozon Kyōkai
---