News

Trigun Film, Ice to Be Screened in L.A. in August

posted on by Andrew Osmond
2 anime titles are part of "Pow! Whiz! Bam!" mini-film festival
---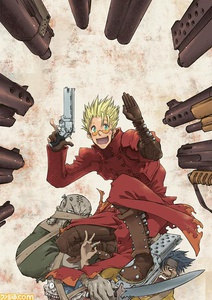 The feature film Trigun: Badlands Rumble and the video anime project ICE will be both screened on August 6 as part of "Pow! Whiz! Bam!" — a Los Angeles mini-film festival presented by Visual Communications. The screenings will take place at Tateuchi Democracy Forum on 369 East First Street ( map). ICE will run at 5:00 p.m., followed by Trigun: Badlands Rumble at 8:00 p.m.
Trigun: Badlands Rumble is the feature spinoff from the Trigun television anime, and it premiered at Sakura-Con in Seattle in April of 2010. Eleven Arts lists the other American theaters showing the film.

ICE is an original anime video project directed by Makoto Kobayashi, who is also known for his mechanical designs on such titles as Giant Robo, Last Exile, and the upcoming sequel Last Exile: Fam, The Silver Wing. (ICE was originally released in three parts; the Los Angeles screening runs 103 minutes.) In ICE, men have been wiped out by an eco-crisis, while the surviving women battle in an overgrown Shinjuku.
Tickets for the individual showings will be available from July 16 at $10, discounted to $8 for students, seniors, or friends of Visual Communications members (I.D. needed).
Festival passes are already available from the website. Until July 15, the passes are $20, discounted to $15 for VC and JANM members. On July 16, the price rises to $25, discounted to $20 for VC and JANM members.
The festival passes also cover another event on August 6, a showcase of the work of Los Angeles and Californian animators. It will be run at 2:00 p.m.
---