News

Pierrot's Naruto: Rock Lee Anime Slated for Bleach's Timeslot

posted on

2012-02-02

19:43 EST by Justin Sevakis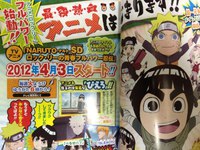 Japanese publisher Shueisha is announcing that the weekly Naruto SD: Rock Lee no Seishun Full-Power Ninden anime will premiere on TV Tokyo on Tuesday, April 3 at 6:00 p.m. That timeslot is currently held by the Bleach anime. Shueisha is also noting that, like the main Naruto series, the Rock Lee spin-off anime will be animated by Pierrot.
The "SD" in the title stands for "Sugoi Doryoku," or "Super Determined." ("SD" traditionally means "super-deformed.")
[Via Manga News]
Update: The announcement does not indicate if the new anime is taking Bleach's place, or sharing the timeslot.
---
RightStuf - Anime, Manga and More
This mecha series has changed a lot as the story has shifted to focus on its villains. Micchy and Andy discuss why Akane is the true heart of Gridman's story.
― SSSS.Gridman has changed a lot as the series has shifted to focus on its villains. This week, Micchy and Andy discuss why Akane is the real heart of Gridman's story. Disclaimer: The views and opinions expressed by the participants in this ch...
Todd guest-hosts and roots through this year's retro-game compilations! Plus Panzer Dragoon, Doraemon, and Smash Bros. speculation!
― Well, here I am, guest-hosting again and just in time for the holidays. Winter and Christmas are upon us, and that's relevant because this the only season with which I associate certain games. I'll go through spring, summer, and fall without much thought, but when wint...
New Game's second season improves on the first while still staying true to its core appeal. Nick Creamer cheers on this charming sequel.
― The first season of New Game! was a very pleasant time all around, presenting the trials and tribulations of a small game development studio with all the coziness it could possibly afford. New Game!'s gentle slice of life storytelling meant it didn't really succee...
Embark on a journey through 20 years of history with Studio Bones, the legendary animation house behind Fullmetal Alchemist, My Hero Academia and many many more!
― Hands up those of you who love Cowboy Bebop. That's a lot of you. Can you really believe that it's been 20 years since it first came out? It still looks impressive today, which serves as a potent reminder that although the landscape around...
Is being an extrovert a requirement for working in the anime industry? Do you have to be a social butterfly? Justin considers the angles.
― Tyler asked: One thing I've noticed with a lot of anime fans is they're either extremely extroverted or extremely introverted—there's very little middle ground. I know a good number of voice actors who claim to be introverted, yet they attend cons that would pou...
This unconventional romance combines beautiful art with nuanced storytelling to deliver a truly unique coming-of-age story. Rebecca Silverman has the details.
― There's something deliberately uncomfortable about After the Rain's apparent central premise – that a seventeen-year-old girl is not only crushing on a forty-five-year-old man, but that she's persistent about acting on it, and he's not quite ...
It's the newest sci fi crime thriller anime on Netflix, but in an overcrowded genre, does this series bring anything special to the table? Nick and Steve find out the hard way.
― Hero Mask is the newest sci fi crime thriller anime on Netflix, but in an overcrowded genre, does it bring anything special to the table? This week, Nick and Steve find out the hard way. Disclaimer: The views and opinions e...
At long last, the definitive version of Nintendo's beloved fighting game series is out on the Nintendo Switch. Branden Johnson finds out if this edition really lives up to all the hype.
― The level of excitement in the Smash Bros. fan community has probably never been higher. For all intents and purposes, this is the game. The one that has everything we could possibly want (okay, except for Waluigi)....
Every now and then when you're watching an old dub, sometimes you'll hear faint echoes of the Japanese track behind it. What's responsible for this phenomenon? Justin digs in.
― Sami asked: Why does the Japanese dialogue track sometimes leak to music & SFX track used for dubs? I've noticed this issue in many dubs of older anime. Also many of the ME Tracks have this weird "ghosting effect" in which t...
Gabriella plunges deep into the lore of Ken Akamatsu for this Negima! spinoff action series, while Paul breaks down all this week's new anime releases!
― I picked up the new Super Smash Bros. game this week, only to re-discover that I'm not very good at Smash games (and I never have been). Thankfully, the holidays should give me plenty of time to get better, or at least less comically awful. In the ...