News

Ippatsu Hicchū!! Devander Anime's Promo Video Streamed

posted on by Joseph First
---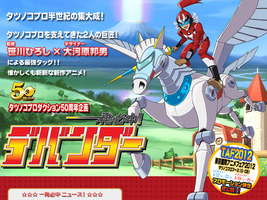 Tatsunoko Production began streaming a promotional video for its upcoming Ippatsu Hicchū!! Devander anime on Monday. The original animation video is being produced in commemoration of Tatsunoko's 50th anniversary and will be released on October 19; the day the company was founded.
Directed by Hiroshi Sasagawa (Yatterman, Time Bokan, Speed Racer, Gatchaman II) and in collaboration with Kunio Okawara (Gundam, Votoms, Brave franchise), this "gag mecha battle" anime will be released in a set with a mook (magazine-style book). Futago Kamikita and Junki Takegami of the new Yatterman anime are designing the characters and writing the script, respectively.
The story revolves around a spirited, carefree boy named Kazuma Harukaze, who lives with his little sister Sakura and his horse Lovely on a farm within sight of Mt. Fuji. One day, a "meteor" lands nearby, and it turns out to be Hinkeeru — a messenger from Muzanda who has come to warn Earth of a grave danger — and a robot horse named Robony.
[Via Moon Phase]
---