News

Nintendo's 1st-Ever Annual Loss Pegged at US$535 Million

posted on

2012-04-26

12:45 EDT by Egan Loo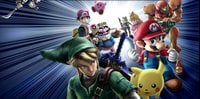 Game maker Nintendo announced on Thursday that it is reporting a net loss of 43.204 billion yen (about US$534.9 million) for the fiscal year ending on March 31. This is the first annual loss for the company since it began publicly reporting its financial results in 1981. Nintendo reported a net profit of 77.621 billion yen (US$961 million) the year before.
However, Nintendo projects a net profit of 20 billion yen (US$250 million) for the current fiscal year ending on March 31, 2013. Nintendo anticipates that it will no longer be selling the Nintendo 3DS below cost by the middle of the fiscal year, and the portable system will roll out in the rest of Asia "in due course." Nintendo will also launch New Super Mario Bros. 2 in August, a new Animal Crossing title this fall, the latest Brain Age title this summer, and the Wii U home console "mainly in Japan, the United States and Europe at the end of this calendar year."
During the last fiscal year, it sold 5.1 million Nintendo DS units, 13.53 million Nintendo 3DS units, and 9.84 million Wii consoles. It plans to sell 2.5 million DS units, 18.5 million 3DS units, 10.5 million Wii and Wii U consoles in the current fiscal year.
[Via Hachima Kikō]
---