News

Clannad, Baka and Test Debut Monday, plus Blu-ray Bleach Movies

posted on by Andrew Osmond
Plus DVD release of Singapore manga adaptation, Tatsumi.
---

On Monday May 28, Manga will release the first volume of Clannad. According to Amazon UK, the second volume will follow on July 30. Manga has previously tweeted that both Clannad and the sequel series Clannad After Story will be released across two DVD volumes each.
The slice of life anime is based on a visual novel franchise from the software developer Key (Air, Kanon). The main characters in Clannad are Tomoya Okazaki, a troubled third year high schooler, and his student acquaintances. The first TV series was broadcast from October 2007, followed by Clannad After Story in 2008.

Also released on Monday is the Complete Collection of Baka and Test (Baka to Test to Shōkanjū). Based on Kenji Inoue's fantasy-comedy light novels, the story centers around Akihisa Yoshii, the "baka" of the title. He is in F class, the lowest rung of the school ladder. The school has developed experiments to summon fantasy creatures, and Akihisa decides to rally F class to take on the higher-tiered classes and seize their perks. Monthly Shonen Ace runs the manga adaptation of the novel series, which Enterbrain has published since 2007.

Manga is also releasing Blu-ray editions of the first three Bleach feature film – Bleach the Movie: Memories of Nobody, Bleach: The DiamondDust Rebellion, and Bleach the Movie: Fade to Black (pictured right). Fade to Black will also make its debut in a DVD edition.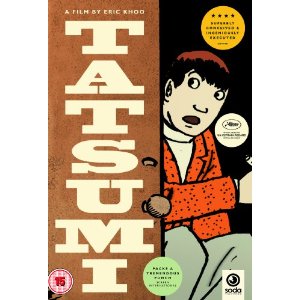 Finally, the animated film Tatsumi (pictured left) is released by Soda Pictures. Made in Singapore, Tatsumi is about the pioneering manga artist Yoshihiro Tatsumi, who wrote adult ("gekiga") stories in strip form. Directed by Eric Khoo, the film adapts five of the artist's manga, threaded together with Tatsumi's account of his struggle to make a living after World War II. (The autobiographical material comes from Tatsumi's manga, A Drifting Life.)
---