News

JAM Project/Macross 7's Fukuyama Leaves Hospital (Updated)

posted on by Crystalyn Hodgkins
---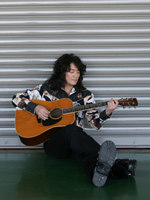 Musician Yoshiki Fukuyama announced on his official website and diary on Tuesday that he was discharged from a hospital in Osaka on Monday.
Fukuyama noted that after performing at a concert in Osaka on June 9, he suddenly had a headache and was rushed to the hospital, where he underwent emergency surgery for a subarachnoid hemorrhage. He did not experience any after-effects or paralysis after the surgery. Fukuyama added that he will continue to rest until July 8, and plans to return to touring with the band JAM Project starting in September.
Three Nine Entertainment had announced on Fukuyma's website on June 11 that he would be putting his work on hold "for the time being" due to his poor health.
Yoshiki Fukuyama rose to fame as the singing voice of Macross 7's main lead Basara. As a solo act and also with his band HUMMING BIRD, he contributed songs to Buso Renkin, City Hunter: Goodbye my Sweetheart, Ehrgeiz, Kamen no Maid Guy, Overman King Gainer, and many other anime titles. As part of the anime music supergroup JAM Project, he performed on songs for éX-Driver, Gravion, MazinKaiser, New Getter Robo, Robonimal Panda-Z: The Robonimation, Scrapped Princess, The SoulTaker, Yu-Gi-Oh! Duel Monster GX, and their most famous collaboration, the anime-based Super Robot Wars game franchise.
[Via Moe Ota-News Sokuhō]
Update: Fukuyama's planned return date to touring corrected. Thanks, Chibi Musashi.
---