News

Film 4 To Screen Paprika and Tekkon Kinkreet

posted on by Andrew Osmond
Freeview channel lines up fantasies by Satoshi Kon and Studio 4°C.
---

The Freeview TV channel Film 4 has confirmed it will screen two anime films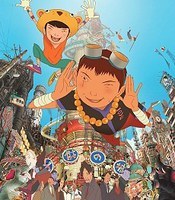 this year. They are Paprika (left), the final feature film completed by the late Satoshi Kon (Perfect Blue, Paranoia Agent); and the urban fantasy Tekkonkinkreet (right), animated by Studio 4°C and based on the manga by Taiyo Matsumoto.
The website Anime UK News reports, "According to online listings on programmes such as DigiGuide Paprika will be shown on 3rd August at 23.10. No date is so far known for Tekkonkinkreet."
Paprika - ©2006 Madhouse, Inc. and Sony Pictures Entertainment (Japan) Inc.
Tekkon Kinkreet - © 2006 Taiyo Matsumoto/Shogakukan, Aniplex, Asmik Ace, Beyond C, dentsu, TOKYO MX.
---
RightStuf - Anime, Manga and More