Interest

Senran Kagura: Shinovi Versus' 1st Promo, New Characters Revealed

posted on

2012-10-17

14:00 EDT by Crystalyn Hodgkins
---
The video game news website Famitsu began streaming the first promotional video on Thursday for Marvelous AQL's Senran Kagura Shinovi Versus -Shōjo-tachi no Shōmei- side-scrolling action game based around female ninja for the PlayStation Vita.

The Senran Kagura Shinovi Versus spinoff will ship on February 28 for 6,980 yen (about US$89). A "Nyunyū DX Pack" version of the game will retail for 10,810 yen (about US$137), and will contain a special box, five Niitengo figures, a drama CD, a CD containing the opening and ending songs and the game's soundtrack, and a 50-page visual book.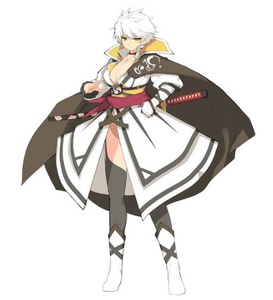 Famitsu also revealed on Thursday that the game will feature five new characters from the Hiritsu Hebi Joshi Gakuen (Secret Standing Snake Girls School). Hiromi Hirata will voice the 21-year-old character Miyabi (pictured at right), a third-year student at the school who has lost her memory due to an accident. Chiwa Saito will voice the 21-year-old character Imu, who is Miyabi's best friend and who was hospitalized for a year after being in the same accident as Miyabi. Sayuri Yahagi will play 16-year-old Murasaki, a second-year student and Imu's little sister and is poor at communicating with others. Yōko Hikasa and Mako will play Ryōbi and Ryōna, two 16-year-old twins who are first-year students. Famitsu is currently hosting images of all five new characters.
Additionally, the 10th volume of the Media Factory Magazine has also revealed on Wednesday that the Senran Kagura television anime series will premiere in January 2013.
Takashi Watanabe (Shakugan no Shana, Slayers) will direct the series at the Artland animation studio. Takao Yoshioka (Sekirei, Elfen Lied) will be responsible for the scriptwriting of the series, while Takashi Torii will act as its character designer and chief animation director. The character designs for the franchise were originally created by Nan Yaegashi while Yukinori Kitajima (Okamiden) assisted in creating its original story.
The series will star Hitomi Harada (Asuka), Asami Imai (Ikaruga), Yu Kobayashi (Katsuragi), Kaori Mizuhashi (Yagyuu), and Yuka Iguchi (Hibari).
[Via IEEE 802.11, 0takomu]
Image © 2012 Marvelous AQL Inc.
---
this article has been modified since it was originally posted; see change history