News

gdgd Fairies Director, Writer Make Boku no Imōto wa 'Ōsaka Okan' Anime

posted on by Egan Loo
---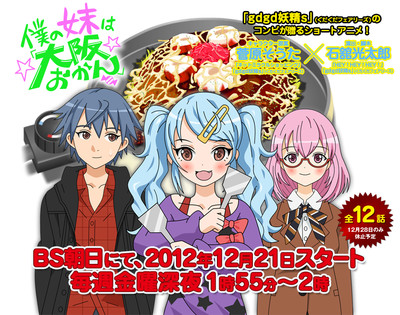 Sōta Sugahara and Kōtarō Ishidate, the director/designer and writer of the first gdgd Fairies CG anime season, are collaborating on another series of television anime shorts that will premiere on December 21. This time, Sugahara is creating the original character designs, and Ishidate is directing and writing the episodes in Boku no Imōto wa "Ōsaka Okan" (My Little Sister's an "Osaka Momma"). The artist pikomaro is adapting Sugahara's designs for animation at the Flash anime studio Charaction.
The anime adapts Chukei Shuppan's popular Osaka Okan Rule (Osaka Momma Rules) and Osaka Rule books that offer a tongue-in-cheek guide to dealing with people from Osaka, particularly the stereotypical Osaka mothers. In the story of the anime, Kyōsuke (played by Ryoko Shiraishi) has spent about a decade living apart from his little sister Namika (Kana Asumi). Now, Kyōsuke is looking forward to reuniting with his sister as they live together again, but Namika is nothing like he remembers. Yuka Iguchi plays Namika's classmate Kaede.
Ishidate had reported earlier this month that he would not be returning for the second season of the gdgd Fairies anime.
The 12-episode Boku no Imōto wa "Ōsaka Okan" anime series will premiere on the BS Asahi channel on December 21, and will run every Friday after midnight from 1:55 a.m. to 2:00 a.m. (effectively, early Saturday morning), except for December 28.
Source: Animate.tv
Image © 2012 Boku no Imōto wa "Ōsaka Okan" Production Committee
Update: Title corrected. Thanks, thomas8166.
---