×
remind me tomorrow
remind me next week
never remind me
Subscribe to the ANN Newsletter • Wake up every Sunday to a curated list of ANN's most interesting posts of the week.
read more
News

Otomo's 'Combustible' Anime Short Wins Media Arts Award

posted on by Egan Loo
---
The Japanese government's Ministry of Cultural Affairs announced the winners of the 16th Japan Media Arts Festival Awards on Thursday.
Animation Division
Grand Prize

"
Combustible
" (
Katsuhiro Otomo
)
Excellence Award

Asura
(
George Akiyama
/
Keiichi Satou
)

"The Great Rabbit" (Atsushi Wada)

The Life of Budori Gusuko
/Guskō Budori no Denki (
Gisaburō Sugii
)

Wolf Children
(
Mamoru Hosoda
)
New Face Award

"Futon" (Yoriko Mizushiri)

Lupin the Third: The Woman Called Fujiko Mine
(
Monkey Punch
/
Sayo Yamamoto
)

"Oh Willy…" (Emma De Swaef/Marc James Roels)
Jury Selections
AFTER SCHOOL MIDNIGHTERS
awaiting
Berserk: The Golden Age Arc II - The Doldrey War
Carefree Fairies (
gdgd Fairies
)
crazy for it
Deposit of Sentiment
Friends Naki on Monster Island (
Friends: Mononoke Shima no Naki
)
Fuse: Memoirs of the Hunter Girl (
Fuse Teppō Musume no Torimonochō
)
Grain Coupon
HARBOR
TALE
I am alone, walking on the straight road.
I'm also a bear.
KIDS ON THE SLOPE
Kiyakiya
Love Games
My socks
NEW TOKYO ONDO
NO RAIN NO RAINBOW
Nyosha
POSSESSIONS
Rainbow Fireflies
Recruit Rhapsody
Sunset Flower Blooming
The Sakuramoto broom workshop
The Sardine Tin
tsuritama
Yonalure: Moment to Moment
108 prayer beads
Manga Division
Grand Prize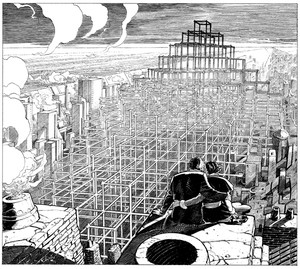 Les Cités Obscures (Cities of the Fantastic) (Benoît Peeters/François Schuiten)
Excellence Award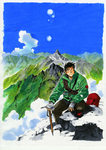 Gaku - Minna no Yama
(
Shinichi Ishizuka
)

Muchacho (Emmanuel LePage)

Mashiro no Oto
(
Marimo Ragawa
)

Gunslinger Girl
(
Yu Aida
)
New Face Award

Bokura no Funka-sai
(
Keigo Shinzō
)

Koori no Te, Siberia Yokuryuu-ki/Frozen Hands: Tales of a Siberian Prison Camp Survivor (
Yuki Ozawa
)

Sennen Mannen Ringo no Ko
/Apple Children of Aeon (
Ai Tanaka
)
Jury Selections
ARUKIHENROZUKAN
Bokura no Manga (Our Comics)
boorupen KOJIKI
Chihayafuru
Cho Ko Do Shujin
Danshi Kokosei no Nichijyo (
Daily Lives of High School Boys
)
Euromanga Vol.7 Special Moebius Commemoration
Habibi I Habibi II
Hirahira -Kuniyoshi Ichimon Ukiyotan-
Hitsuji no Ki
(Sheep Tree)
HOZUKI NO REITETSU
Hyakushō Kizoku
Kinngyoya Kosyoten (Kingyoya Used Books)
LEON
LA CAME
Mako Chan Enikki (Mako-chan's Picture Diary)
Mamagoto (Like a Girl Playing House)
Manga Gokudo
MANGA SCIENCE
Mibu Gishi Den (When the Last Sword Is Drawn)
musicophilia
Nagasare-ru Ietate-ru (Washed awaaaay and Rebuiltiiiing!!!)
Nanohana (Cole Flowers)
Nihonjin no Shiranai Nihongo
Pinocchio
Poulet aux prunes (Chicken with Plums)
RAPID COMMUTER UNDERGROUND
Sangatsu no Raion (
March comes in like a lion
)
Shutohel
Sunny
Yogensha Pippi (
Pippi, the Prophet
)
Yubin Haitatsu to
Yoru no Kuni
(The Postman and the Land of the Night)
25-ji no Vacances
Among this year's Special Achievement Award winners are manga magazine editor Nobumasa Konagai (Hana to Yume, LaLa, Bessatsu Margaret) and mechanical designer Kunio Okawara (Gundam, Votoms, Brave franchise). Techno-pop group Perfume's "Global Site Project" won the Grand Prize in the Entertainment Division, while the Excellence Award runners-up included the Gravity Rush (Gravity Daze) game and the real-life Suidobashi Heavy Industry "Kuratas" robotic mecha.
The 16th Japan Media Arts Festival will be held in Tokyo from February 13 to February 24 of next year. Previous winners of the Media Arts Festival Awards have included Tatami Galaxy, Historie, Mamoru Hosoda's Summer Wars and The Girl Who Leapt Through Time, Vinland Saga, Kunio Katō's "Tsumiki no Ie" ("The House of Small Cubes"), Gainax's Gurren Lagann, Mitsuo Iso's Dennō Coil, Makoto Isshiki's The Piano Forest, Masaaki Yuasa's Kaiba, Koji Yamamura's acclaimed "Franz Kafka's A Country Doctor" short, Takehiko Inoue's Vagabond and Real manga, Nintendo's Nintendogs pet simulator, and Aniplex's Kamichu! slice-of-life school anime.
---